S. African court throws out Ravalomanana passport appeal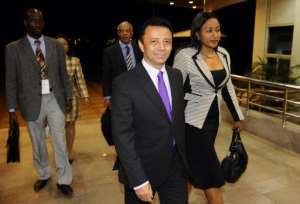 Ousted Madagascar president Marc Ravalomanana (C), on August 16, 2012. By Stephane de Sakutin (AFP/File)
JOHANNESBURG (AFP) - South Africa's highest court has rejected a final appeal by ousted Madagascan president Marc Ravalomanana to have his passport returned, it said in a statement.
"The Constitutional Court has considered the application for leave to appeal. It has concluded that it is not in the interest of justice to hear the matter at this stage," the court said in an order issued on Monday.
"The application for leave to appeal is dismissed."
Ravalomanana's passport was confiscated in September by South African prosectors. A High Court ruled he would only be allowed to leave the country when he is invited to attend regional meetings, a decision the former leader was seeking to have overturned.
Ravalomanana has been exiled in South Africa since he was ousted by his rival Andry Rajoelina in a bloody coup in 2009, during which 36 people were killed and hundreds wounded. The victims are said to have died in clashes with Ravalomanana's presidential guard.
His travel document was seized after a group of Madagascan victims of the unrest approached South African authorities to probe Ravalomanana's role in the deaths.
Ravalomanana's lawyer was not immediately available for comment on Tuesday.
Meanwhile, Madagascar announced that crunch presidential elections expected to end the long-running political crisis sparked by the coup have been postponed by more than two months to July 24.
Bitter rivals Rajoelina and Ravalomanana have opted out of the race, saying their absence would favour a smooth transition.