Tunisia government reshuffle talks fall through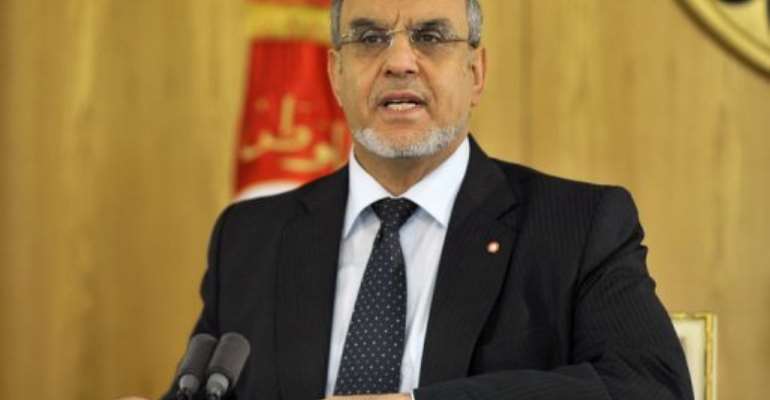 TUNIS (AFP) - Prime Minister Hamadi Jebali said on Saturday that lengthy consultations on a Tunisian government reshuffle had failed and that he will choose a new line-up unless a compromise is found soon.
"We did not agree on a government reshuffle but the negotiations were positive," said Jebali, whose Islamist Ennahda party heads a coalition government with the secular parties Ettakatol and Congress for the Republic.
"It is my duty as prime minister to submit in the next few days a list of government members to the Constituent Assembly for their approval," Jebali said.
But he said he still hoped a "consensus" would emerge, adding that "otherwise I will propose the list that I deem valid".
Political parties had been demanding a government change in the wake of a wave of violence and social unrest that have rocked Tunisia since the ouster two years ago of veteran dictator Zine El Abidine Ben Ali.
On Friday a government statement said Jebali would announce on Saturday the results of negotiations on a government reshuffle.
Ennahda first said a reshuffle was "imminent" last July to enlarge the current coalition that also includes the centre-left parties, Ettakatol and President Moncef Marzouki's Congress for the Republic.
The talks have constantly foundered on the refusal of the Islamists to give up key ministries including foreign affairs and the interior.
Political disagreement has also been rife over the content of the constitution and the political system in Tunisia, which sparked the Arab Spring that ousted Ben Ali in early 2011.
Social unrest has injected urgency into the negotiations.
The North African nation has been rocked by discontent that exploded into violence earlier this month in the southern town of Ben Guerdane and at Siliana in the northwest last month, injuring 300 people.
Ennahda is refusing to sack Interior Minister Ali Larayedh, who has come under fire for his handling of the unrest and attacks by extremist Salafist Muslims.
The ruling party also refuses to replace Justice Minister Noureddine Bhiri and Foreign Minister Rafik Abdessalem who has also been linked to a corruption scandal.