Fulani Spiritual Leader Prays For President Mahama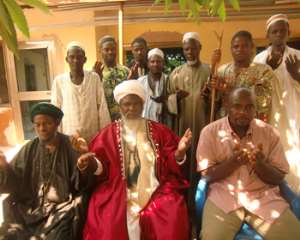 Sheik Sumo hanala (Middle) in prayer
Sheik Sumohanala made the comments during a special prayer session organized at Yeji.  According to Sheik Sumohanala, no leader in this world could succeed without God's guidance and advised President Mahama to always remember that God is always in control and as such he should try as much as possible to give thanks to God for small mercies.
'Since you are now the president of Ghana you belong to all and you must treat all Ghanaians as your sons and daughters, irrespective of one's political affiliation.'
He urged the president to use his good offices to unite the country so that together the people could help him develop the nation and move forward as one people with one destiny.
The spiritual leader expressed optimism that with God on the side of the president, he would succeed in all his endeavours.
He added that success would come if only the president and his team put their shoulders to the wheels and worked hard.
Touching on the issue of Fulani herdsmen, Sheik Sumohanala appealed to Ghanaians not to see every Fulani herdsman as an enemy to the state but partners in development.
He was worried that thousands of cows were being stolen on a daily basis and several Fulani herdsmen were being murdered by some Ghanaians and appealed to the president to take a second look at the Fulani herdsmen issue in order to bring peace to both citizens and the herdsmen.
According to Sheik Sumohanala, the truth is that the herdsmen did not owe cattle but only took care of the cattle owned by Ghanaians.
He said because the Ghanaians themselves were not good at herding cattle, the Fulani herdsmen were hired to do the job.
He noted that even though there might be some bad nuts among Fulanis living in Ghana, the majority of them were law abiding.
He advised Fulanis in Ghana not to hesitate to report any of their people who engaged themselves in any nefarious activities which would bring their names into disrepute.  He charged them to be each brother's keeper and endeavour to live in peace with their Ghanaian hosts.
By Eric Bawah, Yeji