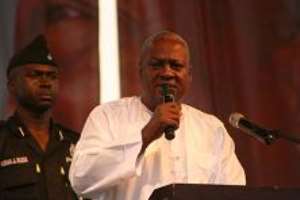 There was spontaneous jubilation across the Central Region Sunday on night as Dr. Kwadwo Afari Gyan, the Electoral Commission (EC) Chairman, declared President John Dramani Mahama winner of the December 7, 2012 presidential election.
In Cape Coast, enthusiastic supporters of the ruling National Democratic Congress (NDC) started thronging the various streets amid brass band music, while others portrayed their skills in traditional drumming and singing, and dedicated the victory to their late icon, President John Evans Atta Mills.
The fisherfolks, who are mostly NDC sympathisers, danced themselves out while teasing the opposition New Patriotic Party (NPP) followers that late President Mills 'was still alive', and that President Mahama would complete everything he initiated.
Ricketts Kweku Hagan, the Member of Parliament-elect (MP-elect( and his teeming supporters went on a float deep into the early hours of yesterday, tooting horns and blowing vuvuzelas to mark the historic occasion.
Esi Mansah, a fishmonger, expressed hope that the NDC, under Mahama, would do its best to complete the Kotokuraba Market and Cape Coast Stadium, and initiate new projects in the Metropolis. Some NDC kingpins in the region decorated their vehicles with white calico to signify their victory over the NPP.
The jubilation in Agona Swedru was so enthusiastic that some of the NDC supporters rode motorbikes very dangerously. 'I had to quickly dash home and sleep, because I was afraid someone could hit me with his or her vehicle,' Nana Kwesi Mensah said.
He added that he had never seen a teeming crowd of youths jubilating at night before in commercial city.
At Moree, the native home of Vice President Amissah-Arthur, the celebration was unprecedented, as the NDC faithful sang and danced to the glory of God. All over the town people showed their happiness with the results, with the 'Ede bi keke' slogan dominating the atmosphere.
Meanwhile, taxi drivers in the Cape Coast Metropolis have expressed gratitude to Dr. Kwadwo Afari Gyan for declaring the results in the night, because it saved them from hectic human traffic they normally encountered on such occasions, which often affected their daily sales.
According to Kwesi Akyen, his daily income went down at the height of the electioneering when NDC and New Patriotic Party (NPP) teams engaged in keep-fit exercises and blocked roads, causing heavy human traffic. He said the declaration of President Mahama as winner late in the night was step in the right direction as it spared them from street jamborees.
Meanwhile, Alfred Adams also reports from Takoradi that supporters of the NDC took to the various streets dancing to NDC songs in celebration of the victory of John Mahama.
This led to the blocking of several roads in the metropolis, leading to traffic congestion. At the Takoradi Market Circle commercial activities were virtually brought to a standstill.