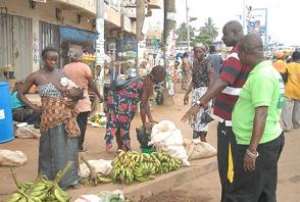 The Kumasi Metropolitan Assembly (KMA), in collaboration with the Association of Sachet Water Producers, has commissioned a plastic waste management project to provide dustbins at some vantage areas in the city to help maintain sanitation and clean environments in the metropolis.
Mr. Samuel Sarpong, Mayor of Kumasi, at the commissioning, commended the leadership and members of the Association for initiating the project under the KMA, to help improve on sanitation in the metropolis.
He said the KMA always frowned on filth that results in all kinds of diseases to mankind, and for that matter, it was in the right direction in fighting communicable diseases in the Metropolis.
He appealed to the public to desist from disposing human waste into dust bins, adding that the law would deal with those who are found wanting in this regard.
Mr. Fredrick Barfi, Regional Chairman of the Association and Project Manager, explained that the Association, which is the main user of plastic waste, is mandated to make sure that there is good sanitation and the environment always kept clean.
He said with proceeds from a levy on stickers, they were able to provide dust bins in support of the KMA as a pilot base project starting in the city, and later be extended to the other parts of the Metropolis and district capitals.
He appealed to every stakeholder in the plastic industry to patronise the stickers to make sure they are able to provide more dustbins to help the KMA ensure that the city is always kept clean.