Buying Of Voter ID Cards Hits Ashanti Region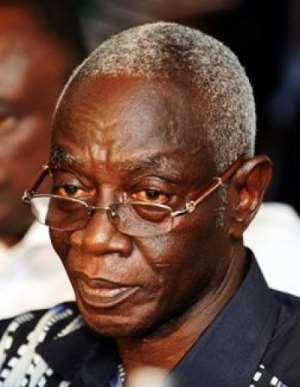 Dr. Kwadwo Afari-Gyan, Chairman of the Electoral Commission of Ghana
SOME UNSCRUPULOUS people are said to be moving around the Ashanti Region buying voter ID cards of the people in the area, reports reaching DAILY GUIDE indicates.
This illegal act was said to be done clandestinely by these perpetrators whose identities were not yet known. It was geared towards disenfranchising those that would fall prey to it.
Ironically, the vote buying syndicate was reported to be going on in areas that the largest opposition political party, the New Patriotic Party (NPP) was enjoying massive support.
Reports have it that each ID card was sold at GH¢50 and that so far several people, notably those in financial difficulties, have sold theirs.
DAILY GUIDE gathered that the vote ID card buying was rampant in rural communities in the Kwabre East District, a seat which is being occupied by NPP Candidate, Kofi Frimpong.
Sharing his views on the dastardly act, Hon. Frimpong told Ali Baba of Kessben FM that he had had several reports of some unknown people moving around the area offering money for people's voter ID Cards.
The law maker, without mincing words, accused the National Democratic Congress (NDC) of being behind the voter ID card buying syndicate.
Hon. Frimpong stated that the NDC after failing to fulfil its numerous promises to Ghanaians was so desperate to win the impending elections and continues to lead the country into abyss.
According to him, the NDC had intentionally implemented bad policies which have resulted in severe economic hardships for the people so that they could take advantage of them and offer them monies in exchange for their voter ID cards.
The NPP MP admonished the people not to kowtow to the NDCs bad politics of offering monies to illegally take away their voter ID cards and disenfranchise them in the process.
Hon. Frimpong reminded the electorate that the voter ID cards were their property granted to them by the constitution; therefore they should never exchange it for anything including money being offered by the NDC.
Reports making rounds indicated that the NDC had targeted the Kwabre East Constituency as one of the key constituencies in the Ashanti Region that they want to snatch in the polls this year.
But, Mr. Frimpong stated emphatically that the Kwabre East seat had over the years been won convincingly by the NPP and this coming national election would not be an exception.
He said the NPP still remained the most popular and attractive political party in the constituency, assuring that he would win the parliamentary polls easily to help the NPP flagbearer, Nana Akufo-Addo to become Ghana's president.