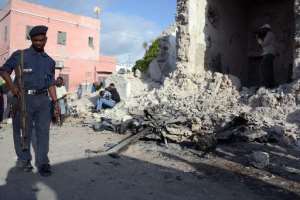 A Somali policeman walks past the remains of a car bomb outside Mogadishu's City Palace Hotel on May 31, 2014. By Mohamed Abdiwahab (AFP)
Mogadishu (AFP) - A doctor was killed and seven others wounded on Wednesday when a car bomb exploded at a hospital in Somalia's capital Mogadishu, aid officials said.
The bomb, believed to have been attached to a car belonging to a staff member, blew up at Keysansey hospital in northern Mogadishu, which is run by the Somali Red Crescent Society with support from the International Committee of the Red Cross (ICRC).
"The bomb exploded in a car belonging to one of our staff," said Somali Red Crescent Vice-President Yusuf Hassan Mohamed. "It exploded when the engine was switched on by one of his friends, who was killed on the spot."
The victim was identified as a student doctor.
"We do not know the motives behind this incident or whether the target was an individual or the hospital itself," Patrick Vial, head of the ICRC delegation in Somalia, said in a statement.
The Somali Red Crescent and the ICRC also called "with renewed urgency for health-care facilities and personnel, and their patients, to be treated with special restraint."
"People providing or receiving health care should be protected at all times and not be the object of attacks," they said.
There was no immediate claim of responsibility, but Mogadishu has been hit by a string of attacks by the country's Al-Qaeda-linked Shebab rebels, who are fighting to overthrow the war-torn country's fragile internationally-backed government.
Recent Shebab attacks have targeted key areas of government, or the security forces, in an apparent bid to discredit claims by the authorities and African Union troops that they are winning the war against the Islamist fighters.