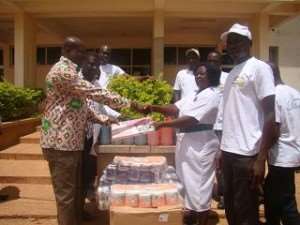 The Bolgatanga Regional Hospital continues to receive assistance from corporate bodies and civil society organisations with the latest being the National Lottery Authority (NLA), which presented 50 pieces of bedsheets with pillow cases, 10 gallons of multipurpose liquid soap,
and 10 packets of toilet roll to the Maternity Ward of the hospital.
Making the presentation at the forecourt of the hospital, the Upper East Regional Sales Manager of the NLA, Mr. John Joseph Dassah, said the gesture was among other activities embarked upon by the authority in other regions to support various health facilities in the country, as it marks its 50th Anniversary.
According to him, his office was aware of the numerous challenges the hospital was faced with, which on many occasions hindered management's desire to ensure that the public got quality health care at all times.
To this end, he gave the assurance that his office would from time to time support the Regional Hospital to enable it provide quality services to the public.
Mr. Dassah said the NLA's activities through lottery have enhanced economic growth, empowered individuals, and guaranteed job creation.
The Medical Director of the Regional Hospital, Dr. Peter Baffoe, commended the management of the NLA for the gesture, and the intention to support the hospital from time to time, to enable it provide quality health care to the public.
Dr. Baffoe observed that of late, many organisations and individuals have been supporting the hospital in different ways, all with the sole aim of helping it render good health care to the people of the region.
He assured the public that the hospital had been doing its best to provide quality health care to the public, and called for cooperation from the public, as the management of the hospital strives to improve from time to time.