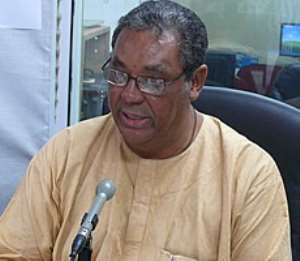 The opposition New Patriotic Party (NPP) has described as cosmetic, an invitation extended by president John Mahama to all opposition parties for a dialogue as a way of minimizing the rising political tension and divisiveness in the country.
Delivering his policy statement Tuesday, President Mahama said, "As leader of the Nation, I will, in the remaining months to December 2012, work to galvanise the unity of purpose that existed in our Nation when we were faced with a national calamity in July this year. I will work to transform that unity of purpose into both concrete and expressive forms of inclusive governance. In the long-term, inclusive governance must ensure that the phenomenon of "winner takes all", which is the root cause of many of our governance problems, is effectively moderated and drastically reformed."
To achieve this objective, the president said, "I am directing the Department of State Protocol to immediately produce new protocols for the management of national events to include roles for key officials of all political parties and the awardees of national awards, no matter their political coloration. Our President (the Chief Executive of Ghana Incorporated) must also meet the leadership of Political Parties on the opposite side of government at least twice every calendar year to discuss matters of national interest which can best be handled on an all party basis…I will in this month wish to meet Political Party leaders at an ice-breaking meeting and set the new arrangement into motion, hoping that it will be continued by subsequent Presidents."
But the Chairman of the NPP, Jake Obetsebi-Lamptey says the NPP was not interested in being invited to cocktail parties.
He said even though the party was interested in all efforts to ensure good governance and reduce unbridled partisanship in the country, it would only appreciate genuine, honest attempts at fruitful dialogue.
Advertisement
Mr Obetsebi-Lamptey said the president should have shown good faith by intervening to stop his Majority side of Parliament from railroading through the law creating the 45 new constituencies.
"We welcome the president's outreach to the political parties but inclusive government…is not a matter of changing protocol list and inviting members of the opposition to come to cocktail parties or even to come to conversations; it includes things like actually listening to the opposition - not having a situation where you say the Minority talks but the Majority have their way; you have a bill in Parliament now that has been vehemently opposed because of the chaos it could cause [but] no indication has been given that his government is ready to listen," he added.
Deputy Information Minister Samuel Okudzeto Ablakwa however maintained the president was sincere and honest about his call.
He said President Mahama had a reputation for promoting consensus building and dialogue.


Story by Ghana l Malik Abass Daabu/Myjoyonline.com