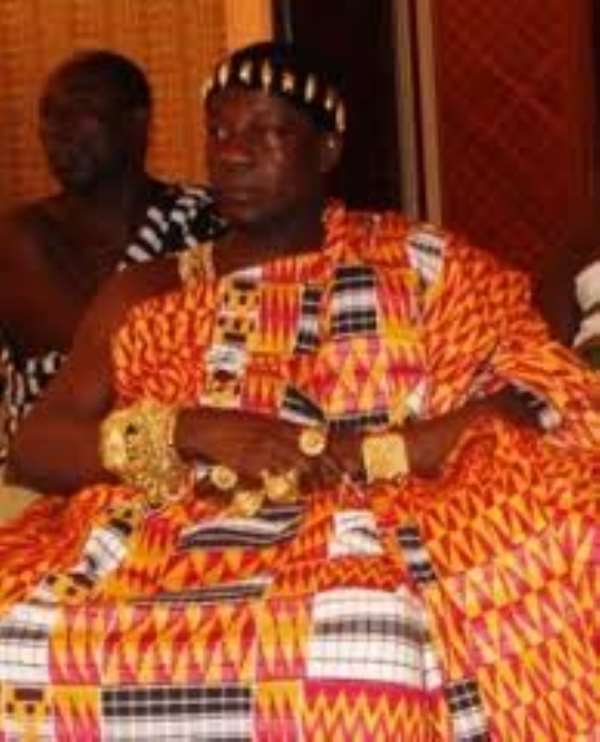 Koforidua, Aug. 29, GNA - Three persons, who allegedly locked up the palace of Omanhene of New Juaben, Daasebre Oti Boateng, without authority, would appear befort court.
They are Nana Topen Siribo, Nana Kwabena Okyere Panin II, and Nana Kwaku Boateng, all royals of New Juaben.
It is alleged that Nana Kwaku Boateng, who claimed to be the Abusuapanin of the area, and domiciled in the United Kingdom, directed Nana Topen to lock up the palace, to secure regalia, including the black stool.
Deputy Commissioner of Police (DCOP) Kwabena Gyamera-Yeboah, Eastern Regional Police Commander, confined the story to the Ghana News Agency (GNA) in Koforidua.
He said the police had a tip off that the three persons were planning to destool Daasebre Oti Boateng, who is also President of the Eastern Regional House Chiefs.
DCOP Gyamera-Yeboah said the information indicated that the three persons had planned to slaughter a sheep at the palace, and send part of the meat to the Asantehene and Daasebre himself, to signify his destoolment, a traditional procedure of destooling a chief.
DCOP Gyamera-Yeboah said on August 19, during the Akwasidae celebration, Nana Panyin II, reported to the police that he was prevented from entering the palace to take part in the traditional rites marking the festival.
The Police Commander said Nana Panyin said he locked up the palace because though he was in charge of the facility, he was prevented from entering it.
DCOP Gyamera-Yeboah said Nana Panyin said he had no alternative than to lock up the palace to secure the stool and other regalia.
He said police investigations cited Nana Topen and Nana Kwaku Boateng as the brain behind the closure of the palace.
The Regional Police Commander cautioned that signals from the traditional circles indicated a security threat, and gave the assurance that the police would not allow any body to disturb peace in the area.
DCOP Gyamera-Yeboah asked the parties involved in the case to channel their grievances to the appropriate quarters.
At the time of filing the report, GNA observed that there was heavy police presence at the palace.
GNA