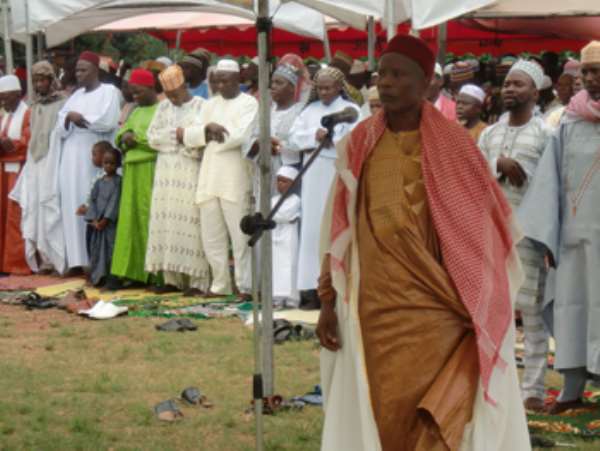 The Volta Regional Minister Henry Ford Kamel last Sunday amazed Muslims and other persons gathered at the Regional Police Training School Park in Ho for the Eid-ul-Fitr prayers.
Mr. Kamel, who is noted for addressing Voltarians in English, dramatically addressed the hundreds of Muslims in Hausa to their astonishment and excitement.
His perfect presentation in Hausa made many people turn to each other in astonishment amidst murmurings about how he learnt the language.
Some of the Muslims who spoke to DAILY GUIDE speculated that he might be a Muslim, while others opined that he used to be one because they know him to be a staunch Christian.
Another group also believed that he might be a Zongo boy or might have lived with some Muslims or Hausa speaking people at one point in his life.
The Communications Director at the Presidency, Koku Anyidoho, the Deputy Regional Minister Henry Ametefe, the NPP Regional Chairman Kenwuud Nuworsu and the NPP Parliamentary Aspirant Dr. Archibald Letsa, were also spotted commenting on the Regional Minister's command over the Hausa language.
Other dignitaries present at the prayers were the Ho MCE Isaac Kodobisah, the NDC Parliamentary aspirant Benjamin Kpodo, the NPP Regional Secretary Kofi Boateng, Ho Central NPP Chairman Ohene Frimpong and a leading Member of the NPP Dauglas Wagba.
The Regional Minister commended Muslims in the region for completing the 30-day fasting, prayers and spiritual journey successfully in spite of the unfortunate incident that befell the country.
He also commended them for dedicating the fasting and prayers to the honour of the late President and urged them to continue to pray for the peace and stability of the country.
Koku Anyidoho also extended greetings from the Presidency and on behalf of the President, extended gratitude to the Muslim community in the region for their support in mourning and burial of the late President.
He appealed to them to continue to support the Mahama-led government as they did for the late President, for the realization of the Better Ghana Agenda.
The Regional Chairman of the NPP Kenwuud Nuworsu, in a brief interaction with reporters, commended the Muslims for a successful spiritual journey.
He urged them to continue the Eid celebrations in the sober and beautiful manner they had performed the Ramadan.
He assured them that Nana Addo Dankwa Akufo-Addo's idea of a fund to develop Zongo communities in the country is real and achievable and should Allah give him power come December, it will become a reality.
The Regional Chief Imam Alhaji Hamza Omar Danjumah, after leading the hundreds of Muslims to pray, admonished them to be agents of peace since Islam is all about peace and love.
He urged the youth to be wary of politicians who will entice them with money and gifts to foment evil for their parochial interests.
He said 'when they come and engage you in violence, tell them to allow their children to take the lead and you will follow.'
From Fred Duodu, Ho