12 August 2012
|
General News
PRESIDENT MILLS' RESTING PLACE OPENED TO THE GENERAL PUBLIC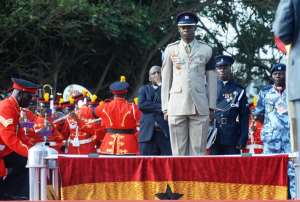 The Funeral Planning Committee (FPC) has announced that members of the general public who wish to visit the final resting place of His Excellency Professor John Evans Atta Mills to drop flowers and pay respect at the Asomdwee Park are free to do so between 8am and 5pm tomorrow Sunday and Monday.
The FPC however added that that the Asomdwee Park will be closed on Tuesday the 14th of August, 2012 for a few days in order to carry out further work on the Park after which it will be opened to the general public on a more permanent basis.
A statement from the FPC said it has had to take the decision based on overwhelming public requests and the fact that the burial site continuous to be inundated by many Ghanaians who wish to be allowed entry to pay respect to our beloved former President.
The statement directed that all those who wanted to access the tomb should park their vehicles at the Independence Square and use the walk way as vehicles will not be allowed to park at the Castle Marine Drive.
Meanwhile, the FPC has also requested that all red and black draping of public buildings and at public places be maintained until the customary forty (40) day observations have been concluded. Many Ghanaians who have also clad their vehicles and homes in red and black in these difficult times are also respectfully encouraged to do same.
GNA