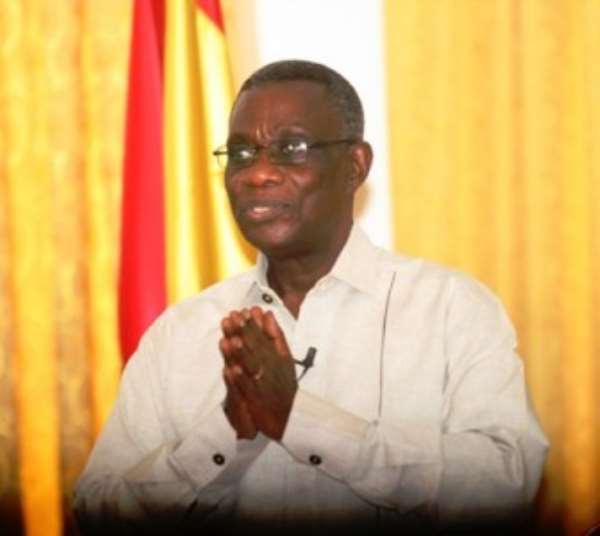 Accra, Aug. 8, GNA – Scores of people including government functionaries, ministers, the clergy, traditional rulers and top civil and public servants have gathered in front of the Banquet Hall of the State House, awaiting the arrival of the body of President John Evans Atta Mills.
The funeral cortege had driven past the State House to the Castle, Osu, the seat of government where the late president worked from 7 January, 2009 until his death at the 37 Military Hospital on July 24.
There is heavy security at the State House where the late president's body will lie in state for public viewing until Friday when the body would be moved to the Independence Square for a funeral service before burial at the park near the Independence Square.
There is a cultural display as fontonfrom drummers and dancers play mournful tunes.
Local and international media are also present in large numbers as well as paramedics who are on standby for emergencies.
At least 16 presidents and several international dignitaries, including the African Union Chairman, Benin's President Yayi Boni, and US Secretary of State Hillary Clinton, are expected at Friday's burial.
The front of the State House and Banquet Hall are bedecked in mourning colours of black and red with two posters of the late president – one in black suit with white shirt and green tie and another in white political suit with the message "Peace I leave with my nation."
Parliament will sit on Wednesday morning to pay tribute to the late president.
The final journey of the late President John Evans Atta Mills began on Wednesday morning with his mortal remains being moved from the 37 Military Hospital.
At exactly 0650 hours the body was brought from 37 mortuary in a caste draped in the national colours of red, gold and green.
The casket was carried by pallbearers of the Ghana Air Force dressed in ceremonial attire.
It was then placed in a limousine hearse decorated with flowers to the sound of the last post sounded by military buglers.
At 0700 hours the funeral cortege left the mortuary and drove towards the Airport Road towards his private residence as hundreds of many dressed in mourning attire watched.
The traffic was blocked as the funeral cortege passed but was opened immediately afterwards.
GNA