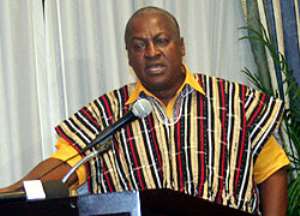 Ho, July 01, GNA - Vice-President John Mahama has urged the Evangelical Presbyterian University Collage (EPUC) and the University of Health and Allied Sciences (UHAS) in the Volta region to "collaborate and complement each other in the provision of quality education".
Vice- President Mahama gave the exhortation at the investiture of Very Reverend Dr Livingstone Buama, former Moderator of the General Assembly of the E.P. Church as Honorary Chancellor of EPUC.
Reverend Dr Cyril Gershon Fayorse and Mr Samuel Walter Kofi Buami were also inducted as President and Registrar respectively of the University.
Vice-President Mahama said "Unhealthy rivalry should be avoided," adding that, Ghana must follow the examples of countries which "take education seriously and are deriving enormous benefits from it."
"Knowledge-based economies are those that continue to thrive in the face of harsh global environment. They continue to prosper and therefore able to provide the economic opportunities for their people."
He said the government was therefore committed to creating the necessary environment for private universities to thrive and reminded the three top managers of the EPUC that "your tasks are not going to be easy."
He said their profiles however gave hope that they are going to be Servant Leaders and Managers, and will strive for excellence and reflect the thinking of good corporate governance.
Responding, Very Reverend Dr Buama said "we are here not to rest and rust. We are here to engage in creative and redemptive activities that will glorify God and edify humanity."
He assured that "even when the going gets tough we hope to be tough enough to get going" with the help of God.
The Honorary Chancellor called on friends of the EPUC to demonstrate their true friendship by assisting the institution to achieve phenomenal growth and development.
Dr Fayose thanked the government for responding quickly to the request of the EPUC to construct a three-kilometre access road to its permanent site at Gbleve near Ho.
He was optimistic that a request for water and electricity to be extended to the site would also receive a positive response.
GNA