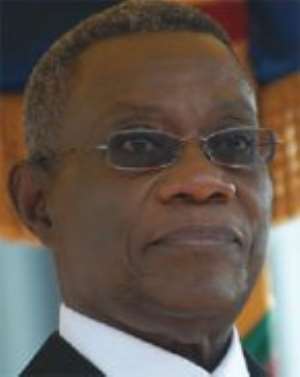 It is called "Canine Humility" and its original Akan/Twi translation is "ᴐkraman ahoberase." It is the kind of Machiavellian Humility that is strictly and invariably tailored towards the flash achievement of narrow and transient goals. And because it is not a critter and/or organism of civilized society, it sports the mean and ugly streak of reckless opportunism. Of course, I am herein alluding to the abjectly crude refusal of President John Evans Atta-Mills and Vice-President John Dramani Mahama to participate in the quadrennial presidential campaign debates traditionally hosted by the Institute for Economic Affairs (IEA), for all the presidential candidates of the various political parties actively involved in our general elections (See " 'We Don't Need IEA Platform To Sell Mills' – Quashigah" Ghanaweb.com 6/27/12).
President Mills, needless to say, is a fleering opportunist because in 2000 CE, he set the unpardonably bad and presumptuous precedent of flatly refusing to partake in the IEA debates for presidential candidates, on the glaringly lurid grounds that as Mr. Rawlings' trusted arch-lieutenant, his was an all-too-recognizable name for him to fret about not clinching the presidency hands down. He would live to regret his epic blunder. Indeed, by 2004, the man would be galloping like a stallion in a Kentucky Derby race for seating at the same IEA-sponsored debates against which he had turned up his nose four years before.
And, quite predictably, if I may relevantly observe, not having learned any meaningful lessons from the recent past, the man has, once again, decided to reprise his Election 2000's nasty streak of arrogance once more. And sure as hellfire, mark this down, dear reader, the man is likely to suffer a margin of electoral loss the likes of which has not been experienced in the 20 years of our Fourth-Republican political history, the obvious NDC largesse of 45 additional contestable parliamentary seats deliberately carved out for the purpose by the Afari-Gyan-led Electoral Commission, in the lead-up to Election 2012, notwithstanding.
Anyway, in a rather hollow statement seeking to justify the morbid refusal of his boss to participate in the IEA presidential debates, National Democratic Congress (NDC) propaganda secretary Richard Quashigah characterized the President's nose-thumbing at the IEA debates as one squarely in keeping with "convention." Well, the fact of the matter is that other than, perhaps, the quite tactically sound refusal of former President John Agyekum-Kufuor to partake in the 2004 IEA presidential debates, there is really no convention or established precedent of incumbents flatly refusing to cognitively butt heads with their political rivals and opponents. And what is more, in the case of Mr. Kufuor, skipping the 2004 IEA-sponsored debates may well have been retributively intended to teach Tarkwa-Atta a lasting lesson in humility. Unfortunately, however, my good, old Uncle Tarkwa-Atta does not appear to have picked up any positive vibes from his Oxbridge-schooled predecessor.
It also bears promptly pointing out that the cerebral business of presidential debates may aptly be reckoned to be rather too sophisticated for the NDC Mafia Thuggocrats, who prefer target-shooting practice at the Teshie Military Range to explaining to a largely harried and deliberately starved Ghanaian electorate, how to make qualitative education readily accessible to all of our Senior High School-age youths, much less be induced to justify why our hitherto comprehensive and reasonably and efficiently run National Health Insurance Scheme (NHIS) has been, literally, allowed to go to the dogs.
Well, as it is to be expected, the Trokosi Cynics among the NDC horde of hoodlums are at it again; this time, they are foolishly demanding to know precisely what "recommends" the presidential candidate of the New Patriotic Party (NPP) to the presidency, short of his purportedly overweening sense of entitlement. In essence, Nana Akufo-Addo's sterling legal credentials are also rudely being impugned. And so one begins to wonder where Mr. Tsatsu Tsikata, the Trokosi Legal Genius, was when faced with death by firing squad, the then-Flt.-Lt. Jerry John Rawlings and/or his representatives solicited the services of Nana Addo Dankwa Akufo-Addo, the legal maven who, nonetheless, at least in the nescient opinion of one Trokosi cynic, is not even ranked among the roll-call of great Ghanaian lawyers? Then again, what can one make of a clinical idiot who claims that the late Justice Edward Akufo-Addo marginally passes the test of ranking among great Ghanaian lawyers and jurists? Perhaps the best riposte is to ask that cynic to name any Trokosi lawyer and/or jurist whose academic and professional credentials rivaled those of the immortalized former ceremonial president of Ghana.
You see, ordinarily, one ought to have no qualms in accepting the fact that in the case of Tsatsu Tsikata and the State, represented by the Kufuor administration, Nana Akufo-Addo bungled big time, if one can also readily, honestly and courageously accept the fact that a party whose key leadership is not in the mature and civilized habit of conceding open-and-shut Supreme Court verdicts, ought not to be pompously impugning the credibility of Nana Akufo-Addo before the same.
And, by the way, what is so difficult to appreciate about the fact of Nana Akufo-Addo being the lead-architect of the landmark Repeal of the Criminal Libel Code/Law which functionally marked the beginning of enlightened democratic cultural and political practice and governance in modern Ghana?
Of course, the fact that it took nearly 30 years to bring modern civilization to the erstwhile Gold Coast, in the form of the Repeal of the Criminal Libel Law/Code, obviously has everything to do with the virtually hermetic hogging of our national reins of governance by the pathological savages, barbarians, terrorists and troglodytes of the Provisional National Democratic Congress in the fraudulent name of probity and accountability. Indeed, perhaps, Akufo-Addo's greatest achievement is fiercely and courageously standing up to the Sogakope Mafia for the longest 20 years of postcolonial Ghanaian history, without falling victim to abject humiliation and political compromise like Messrs. Kwaku Baah and Joseph Nunoo-Mensah.
*Kwame Okoampa-Ahoofe, Jr., Ph.D., is Associate Professor of English, Journalism and Creative Writing at Nassau Community College of the State University of New York, Garden City. He is Director of The Sintim-Aboagye Center for Politics and Culture and author of "Dr. J. B. Danquah: Architect of Modern Ghana" (iUniverse.com, 2005). E-mail: [email protected]