Somali leaders adopt draft constitution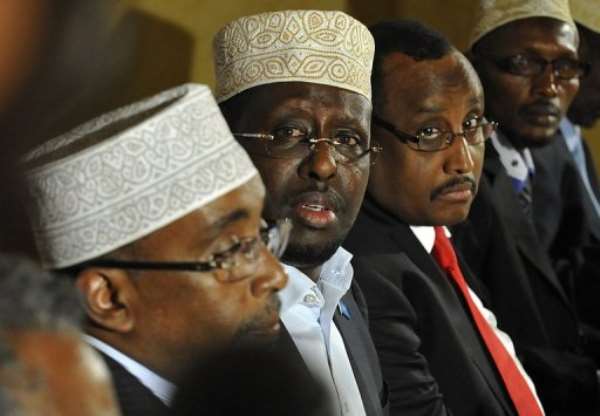 Transitional Federal Government of Somalia president Sheikh Sharif Ahmed (C) speaks. By Simon Maina (AFP)
NAIROBI, Kenya (AFP) - Somalia's leaders said Friday they have adopted a draft constitution, billed as the key to lifting the Horn of Africa nation out of two decades of instability and civil war.
The draft law must first be approved by a constituent assembly whose members will be designated next month and then, at a date still to be determined, put to a nationwide referendum.
"This is the most critical step because it ushers in the major step to end transition," UN Special Representative for Somalia Augustine Mahiga told reporters in Kenyan capital Nairobi.
The adoption of the text came at the end of three days of meetings between Somali President Sharif Sheikh Ahmed, Prime Minister Abdiweli Mohamed Ali and the speaker of parliament, Sharif Hassan Sheikh Adan.
Also in attendance were the leaders of the self-proclaimed autonomous republics of Puntland and Galmudug, and the head of the Sufi movement.
Somalia's transitional institutions, including the presidency and the parliament, were set up in 2004 but must be replaced by permanent institutions by August 20.
Somali elders will designate the members of a constituent assembly, which is supposed to convene for the first time around July 12, as well as the members of the new parliament.
The members of parliament are to choose a new president by August 20.