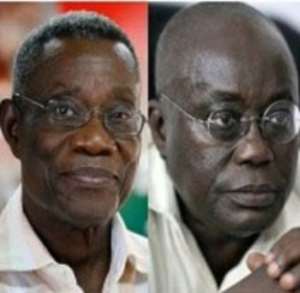 The Daily Post welcomes the call by Dr. Arthur Kennedy on President Mills to make public his state of health.
In an interview with The Globe which was re-published with glee by the Daily Guide, Dr. Kennedy said "the health of our leaders is always clouded in secrecy. This trend is not helpful and must change".
We agree entirely with the former Director of Communication of Nana Akufo Addo's campaign team on this matter. As he said, "None of us are immune to illness. Naturally, if somebody is not well, we should have sympathy and wish the person well, but getting more information will make it easier to get that kind of public sympathy".
However, there are two crucial points that we would want to make about the call of Dr. Arthur Kennedy on President Mills to make public his health status. The first is that his call indicates he has not been keeping himself abreast with the pronouncements of President Mills. The good professor has on three occasions publicly made known his health condition which made him to seek treatment in South Africa.
We recall him saying at the Castle the last time he met the so-called senior journalists there that his health problem is sinuses related. It is that which makes his voice sound nasal on some occasions. What more does Dr. Arthur Kennedy want to hear? The medical and scientific names of the throat and sinuses ailment?
President Mills has been bold enough to make public his health condition. He has even gone as far as throwing an open challenge for anyone who is ready to bring his doctors to test him. That person must however also be ready to be tested too. Why will the NPP not accept this challenge if they are so eager to know the President's health status?
Secondly, we agree with Dr. Arthur Kennedy that the President's health status must be made public. But so also must be made public the health status of all those who are seeking the highest office of the land.
As leader of the biggest opposition party, the health of Nana Akufo Addo, for example, is also of concern to the Ghanaians. So, while Dr. Arthur Kennedy is calling on President Mills to make his health status public, that call should be extended to all those seeking to become President of Ghana.
Ghanaians would want to know, for instance, if it is true that Nana Akufo Addo is wearing artificial dentures. They would want to know if the NPP flag-bearer suffers from cirrhosis of the liver. Ghanaians would also want to know if Nana Akufo Addo has prostrate cancer as is being alleged and being whispered as the reason why he travelled to Israel this year.
Then comes the almighty issue about him being hooked to hard drugs. Ghanaians need to know if Nana Akufo-Addo smokes wee and sniffs cocaine as has been alleged by even former American Ambassador to Ghana, Pamela Bridgewater.
Indeed, this allegation, with its repercussions, if true, is so serious that a mere denial from Nana Akufo-Addo will not be enough to bring out the truth in this matter. Only a blood test or a hair strand test can ensure that the truth will be known.
The case of German coach, Christophe Daum clearly vindicates the position that only a medical examination can clear the air about whether Akufo-Addo smokes wee and sniffs cocaine or not.
After Germany's Euro 2000 debacle, Germans were off the consensus that Christoph Daum was the messiah they need to bring the country back to the pinnacle of world football. However, as far as Uli Hoeness, an ex-footballer was concerned Christoph Daum was the wrong man for the job because he sniffs cocaine.
In order to clear his name against allegation of cocaine use, Daum voluntarily offered a hair sample to the forensic investigators with the words "I am doing this because my conscience is completely clear".
The German nation counted the days, waiting for Daum's innocence to be officially proclaimed. The bombshell came in on October 20,2000. He had tested positive for cocaine use. The rest is history!
If Daum had not been made to go for the test, the truth will never have been known. It must be noted that because Daum wanted the job, the onus was on him to prove his innocence, not on his accusers to prove his guilt. So, Akufo Addo needs to go for the test to prove his innocence.
Dr. Arthur Kennedy's call is really welcome. We need to know the health status of our President. But we dare to say that it is equally important that we know the health status of all those who want to become President of Ghana.