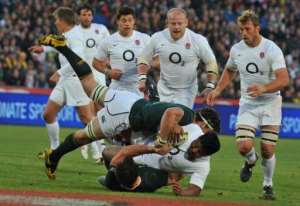 JOHANNESBURG (AFP) - Injuries to key players diluted South African celebrations on Sunday after a 36-27 victory over England gave them a winning 2-0 lead in the three-Test series.
Full-back Patrick Lambie (ankle), lock Juandre Kruger (neck) and try-scoring flanker Willem Alberts (knee) were forced to retire in the second half as England slashed a 19-point deficit to four before conceding a late try.
The loss of Kruger, who has impressed as successor to retired Springbok icon Victor Matfield this season, would leave coach Heyneke Meyer with only three locks in his squad ahead of the final Test in Port Elizabeth Saturday.
Eben Etzebeth, 20, made his Super 15 debut this year and has been first choice in both Tests against England at the front of the line-out, Flip van der Merwe replaced Kruger at Ellis Park and Franco van der Merwe is uncapped.
"Injuries are part of rugby so I do not want to complain about them," Meyer told reporters after the Springboks made it nine wins in a row over England before a 61,000 Ellis Park crowd.
"However, one England try was scored when Juandre was down and another was the result of an overthrow at a line-out. England worked hard to come back at us, but some of the points we conceded were unnecessary.
"We lost our way a bit in the second half because our first phase play was not good enough and we made mistakes that allowed England back into the game, but we played great rugby in the first half.
"In the opening half we showed glimpses of what we are capable of and where we want to go as a team. That is the style of rugby I am looking for the Springboks to play.
Advertisement
"Toward the end of the match we had several guys off and mostly young guys on the field so skipper Jean de Villiers did well to keep the players together and calm," said the coach who succeeded Peter de Villiers after the 2011 World Cup.
"The young players would have learnt a lot from being in that tight situation toward the end and they did well to produce that final try which sealed victory for us."
Meyer hinted that there could be a few changes for the third Test at Nelson Mandela Bay Stadium, with a lot depending on how serious the injuries are, but he does not want to lose continuity.
"Some of the guys are tired and I want to try a few things, but we must not lose continuity. A lot will hinge on who is available. I want to go into the Rugby Championship (formerly Tri Nations) with continuity and momentum."
South Africa launch their southern hemisphere championship campaign on August 18 against debutants Argentina in Cape Town and travel to South America for a rematch one week later.
Meyer lauded right wing JP Pietersen, who started and finished the move that produced the late try which gave the Springboks a nine-point lead and halted a brave second-half fightback by Six Nations runners-up England.
"I have always rated JP as a great all-round player. He had a fantastic game and his workrate was unbelievable. He made a couple of line breaks and defensively he was very sound," said the coach.