Ivory Coast claims foiled pro-Gbagbo coup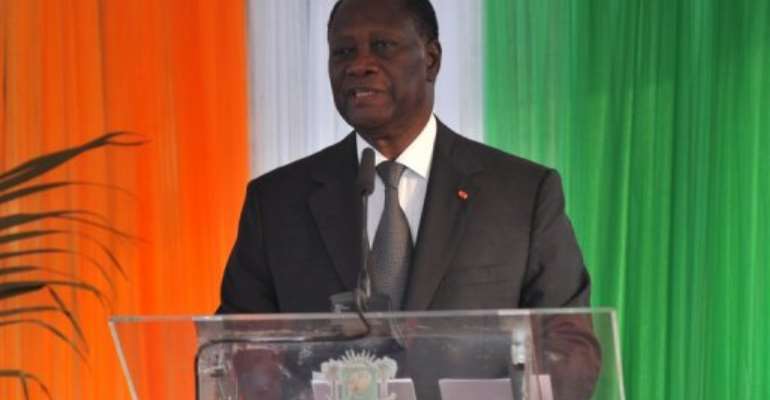 ABIDJAN (AFP) - The Ivorian government said it had foiled a plot to overthrow President Alassane Ouattara by a group of exiled army officers loyal to his ousted predecessor Laurent Gbagbo.
In an interview to public television station RTI aired late Tuesday, Interior Minister Hamed Bakayoko accused pro-Gbagbo officers and former members of his administration of plotting to install a transitional military council.
"We had very specific information that a group of officers in exile in (the Ghanaian capital) Accra were preparing a military operation in Ivory Coast aimed at destablising the country," he said.
RTI aired undated video footage showing a group of uniformed men, including a spokesman proclaiming the dissolution of the west African country's institutions and the creation of a "Council for national sovereignty".
"This video is authentic," said Bakayoko, who added that the coup plotters' spokesman, whom he named as Colonel Kate Gnatoa, and several others had been arrested.
Among the alleged leaders of the would-be putsch was former defence minister Moise Lida Kouassi, who was arrested last week in Togo, Bakayoko said.
After being in power for 10 years, Gbagbo refused to concede defeat to arch-rival Ouattara in November 2010 presidential polls, sparking a crisis that lasted months and cost some 3,000 lives.
He was eventually captured by pro-Ouattara forces, with Western assistance, and is now locked up in The Hague where he faces charges of crimes against humanity at the International Criminal Court.
Gbagbo loyalists accuse Ouattara's administration of persecution. Forces loyal to the ousted strongman have been accused of being behind a spate of attacks in the west of the country.