Grenade hits British convoy in Libya's Benghazi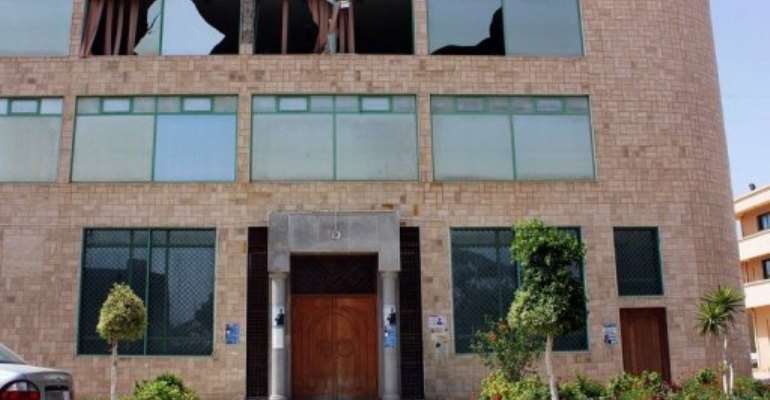 BENGHAZI, Libya (AFP) - A British diplomatic convoy was hit by a rocket-propelled grenade in the eastern Libyan city of Benghazi on Monday, wounding a guard, security and diplomatic sources said.
An AFP journalist saw a white armoured vehicle with a diplomatic plate parked outside the British consulate in Benghazi. There was blood on the front passenger seat, he said.
Libyan security sources identified the person wounded as a guard who was injured when the vehicle was hit by a rocket-propelled grenade.
A spokesman for the Foreign Office in London confirmed the attack and said all staff were accounted for.
"We can confirm there was an attack on a British embassy convoy in Benghazi this afternoon," the Foreign Office spokesman said.
"All staff are accounted for. We are liaising closely with the authorities."
Deputy Interior Minister Unis Sharif said the vehicle that was hit was carrying security personnel in a convoy for the head of the British diplomatic mission in Benghazi.
"The rocket hit the security vehicle and one member of the security team was critically injured," he told AFP.
The attack comes five days after a small bomb was set off outside the US diplomatic mission in the same city, wounding one guard, according to Libyan authorities.
Several such incidents have occurred in Benghazi, the birthplace of Libya's revolution that toppled dictator Moamer Kadhafi, in recent months.
A rocket-propelled grenade struck the offices of the International Committee of the Red Cross on May 22.
In April an explosive devise was thrown at a convoy carrying the head of the United Nations mission to Libya, Ian Martin.
And a blast ripped through a courthouse the same month causing serious damage to the building but no casualties.
The violence comes as the North African nation prepares to elect a general national congress, with the vote set for July 7.