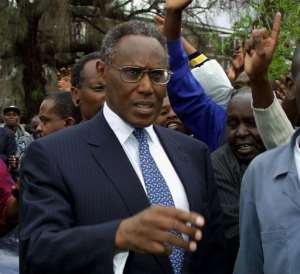 NAIROBI (AFP) - Kenya on Monday began three days of official mourning for Internal Security Minister George Saitoti who was killed in a helicopter crash together with his assistant minister and four others.
"President Mwai Kibaki has declared three days of national mourning starting Monday 11th June 2012 following the tragic deaths of the Minister for Internal Security Prof George Saitoti and the Assistant Minister ... Hon. Orwa Ojode...," a statement from State House said.
There were no survivors in the Sunday morning accident that occurred in Ngong, a town on the outskirts of Nairobi. The statement said that Kenyan flags would fly at half mast in honour of the dead ministers, two body guards and two pilots.
The police helicopter, acquired just five months earlier, came down soon after take off from Nairobi's Wilson Airport. Witnesses at the scene told AFP that the aircraft "hovered up there and looked like it was turning back" before coming down.
Another witness, farmer Ole Tolei, said that he had seen the helicopter "flying very low. It came down suddenly and we heard a loud explosion, and then it burst into flames."
This is the third of a series of air crashes that have robbed the Kibaki administration of top government officials.
The most recent was in 2008 when a Cessna aircraft carrying two cabinet ministers crashed into a building in Narok, a town outside Nairobi.
In January 2003, just weeks after Kibaki's government came to power, a light aircraft carrying government ministers crashed in western Kenya killing one minister and three others. Three other ministers survived the accident.