Studio Kurtycz partners Goethe Institute to revive Ghana's art industry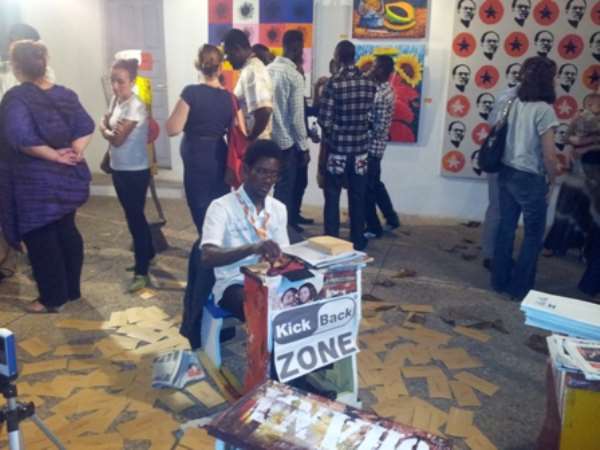 Accra, June 7, GNA – An art exhibition that featured most local artists whose works resonate with the ideas of the famous Ayi Kwei Armah's novel "The Beautiful Ones Are Yet Born" has taken place in Accra under the auspices of Studio Kurtycz in collaboration with the Goethe Institute.
The event, which brought together 21 Ghanaian artists took place in two locations - the Goethe Institute in Accra and the centrally located neighbourhood of La, where ten of artists came from.
Using different means of expressing, the artists took from the domain of fine and applied arts, to revisit Ghana through the lens of the "Beautiful Ones Are Not Yet Born" novel, which Ayi Kwei Armah published shortly after the end of Dr Kwame Nkrumah's government.
The novel had become a timeless description of a country struggling to work its way into a functioning society that is truly African. Its powerful images of filth and corruption sticks to the mind, but its key message also hints at the need to drive development based on what is truly coming from Ghana.
The artists comprised both established and unknown ones contribute four works which were divided over the two locations. At La the arts were exhibited in the open air in the form of street festival.
Rudek van der Helm of Studio Kurtycz and an artist said the exhibition was the fourth in the series with the objective to re-awake the interest of people in arts as well as help develop the art industry in Ghana.
"Since 2008 we have seen some vibrancy in the art industry in Ghana but it is still in its infancy especially compared to countries like Nigeria. So there are a lot of things that need to come in place.
"Art is a reflection on society so getting inspiration is important for artists but in Ghana art is mainly in the hands of people doing handicrafts," Rudek said.
He said people should cultivate the habit of patronizing art exhibitions and also the culture of buying the art works in order to help the industry to grow.
"We need to create more events and collaborate with institutions like Goethe to further promote the industry," he said.
"The project is a brilliant initiative by Studio Kurtycz. It has brought the people who did the arts and people who are not artists together," Robert Sabotta, Director of the Institute said.
He said Goethe Institute in future would look for more collaboration at the international front to further promote the development of the art in Ghana.
Studio Kurtyzc is a space of creation based in Accra which applies a diverse set of techniques (etching, woodcutting, photography, instalation, etc.) to develop our artistic projects, publications and art exhibitions
GNA