Do not use classrooms as political platforms, Teachers urged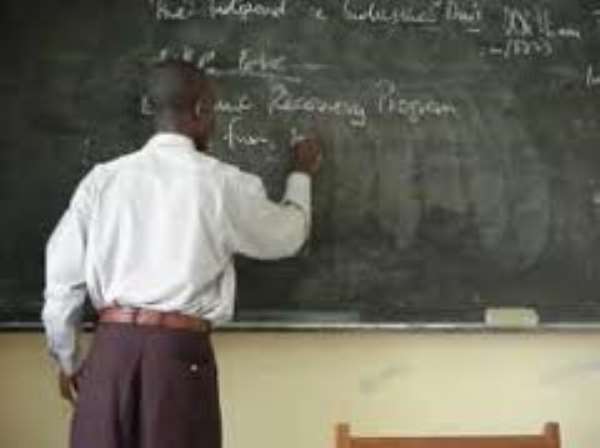 Apam (C/R), June 4, GNA – Gomoa West Coordinating Director, Mr Peter Antwi-Boasiako, has cautioned teachers against turning their classrooms into political platforms where they will engage in partisan politics.
"You will lose respect of students who do not belong to your political divide," the District Coordinating Director said at a get-together organised by the District Director of Education, Ms Augusta Kyeaa Sarpong, for headteachers in Gomoa West at Apam.
He said success of education in the District depended on contributions of each headteacher and teacher and likened it to a football team and said it was the contributions of each player that made the team to win or lose a match.
Mr Antwi-Boasiako cautioned them against misuse of school funds saying "lack of accountability can destroy your administration and your reputation."
In a speech delivered by Mr Daniel Baah Tenkorang, District Planning Officer, on behalf of Mr Theophlus Aidoo-Mensah, District Chief Executive (DCE) pledged the support of the Assembly for the district directorate of education's activities to improve standard of education in the District.
The DCE said government had introduced a number of interventions into the system to improve standard of education in the country and appealed to heads of schools to strengthen supervision to ensure that teachers perform as expected of them.
He expressed concern about absenteeism, lateness to school, malingering and using students for private work and appealed to heads to ensure that their teachers desist from them.
Mr Aidoo-Mensah said the Assembly would continue to award hard working teachers and headteachers.
Ms Sarpong said she had decided to organise the party for the heads of basic schools from her own resources as a means of thanking them for their hard work last year.
She said some measures they had put in place had begun to show positive results.
For example, she said teenage pregnancy had reduced from 35 in 2011 Basic Education Certificate Examination (BECE) to 11 in 2012.
The Education Director hoped 2012 BECE results would be better than those in 2011.
She said guidance and counselling has been strengthened with training of 76 teachers to coordinate its activities in the District.
The District Director of Education said measures had been put in place to inculcate reading habit in the children.
She cautioned teachers against sexual harassment perpetuated on school girls and said she would deal drastically with any teacher who engaged in it.
Mr Kobena Apoh-Arthur, Headteacher of Gomoa Abrekum Junior High School, who chaired the function, said he had never heard about any head of department using his or her own resources to organise such a big party for over 140 heads of basic schools.
He said Ms Sarpong had really demonstrated that she was a "real mother" and appealed to the heads to work harder to reciprocate the director's gesture.
GNA