Egypt make winning start in World Cup challenge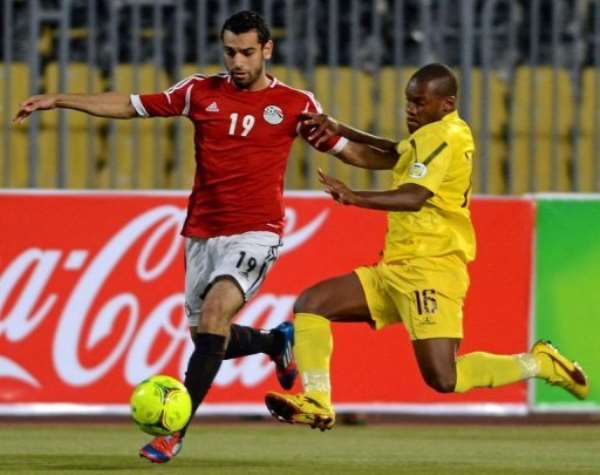 Egypt's striker Mohammed Salah (L) challenges Mozambique's defender Miro. By (AFP)
JOHANNESBURG (AFP) - Egypt began a quest to reach the World Cup finals for the first time since 1990 by defeating Mozambique 2-0 Friday at a deserted military stadium in Mediterranean city Alexandria.
Defender Mahmoud Fathallah put the Group H top seeds ahead early in the second half and an own goal from goalkeeper Joao Rafael Kapango just past the hour mark sealed the fate of the bottom-seeded Mambas (snakes).
Authorities barred spectators because of political instability in the country since the fall of dictator Hosni Mubarak last year, and there has been no domestic football since 74 died in post-match Port Said rioting four months ago.
This was the first fixture in the group and the other contenders, Zimbabwe and Guinea, clash in Harare Sunday. The country topping the six-round mini-league advances to the knockout final qualifying round late next year.
Although Egypt have won the Africa Cup of Nations a record seven times, they have appeared only twice at the World Cup and new American coach Bob Bradley is acutely aware of expectations in the vast Arab nation.
"Our goal, our mission is to qualify for the 2014 World Cup in Brazil," he stressed during the build-up to the qualifier. "This is something that drives all of us -- players, coaches and supporters."
Former United States coach Bradley and his national squad mix of old and new faces prepared for the match with a series of friendlies in various Middle East venues and Sudan.