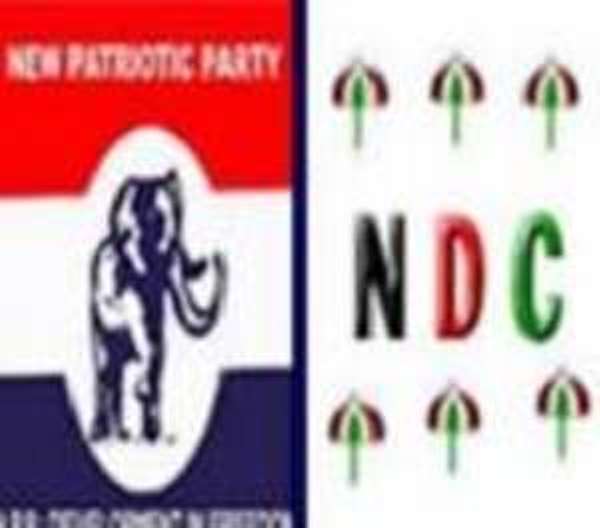 NPP and NDC flags
A former Sekondi Constituency National Democratic Congress Vice Chairman, Alhaji Osumanu Mohammed, and 350 other party members on Tuesday announced their defection to the opposition New Patriotic Party (NPP).
Addressing a press conference in Sekondi to declare their defection to the NPP, Alhaji Mohammed said they quitted the NDC due to ''disrespect to authority in the party'.
He said the Mills' Government had shown gross disrespect to the founder of the party, ex-President Jerry John Rawlings and his wife, Nana Konadu.
"The way and manner President Mills is handling the NDC and its government, is an apparent deviation from the principles and ethics that molded the NDC from the Provisional National Defence Council (PNDC)," he said.
Alhaji Mohammed noted that a cursory assessment and perusal of the unfolding events within the NDC as well as the government was an obvious indication of the fact that there was a lopsided agenda which smacked of clandestine efforts to oust the Rawlings' from the party.
He added that the current economic hardships presided over by the NDC government was a clear manifestation that the ruling government had nothing good to offer the majority of Ghanaians.
'I can confidently confirm that the NDC government has done nothing to better the lots of Muslims in the Sekondi Zongo Community even though the NDC party touts itself as the only pro-Muslim political party in the country,' he said.
Alhaji Mohammed said the NDC had lost focus and vision to drive this nation forward and, therefore, he had no choice than to quit the party and join the NPP.
He said over the years the NPP had demonstrated quality leadership and good governance during its eight years in office and had proven to be pro-Muslim than the much touted NDC, hence his decision to join it.
He commended the NPP MP for Sekondi, Papa Owusu Ankomah for helping the development efforts of the people of Sekondi by offering scholarships to students, building classroom blocks, computer laboratory, among other social infrastructure.
GNA