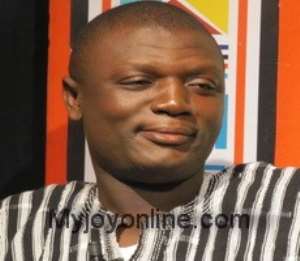 The suspended deputy General Secretary of the ruling National Democratic Congress, Kofi Adams has said that he is not interested in an out-of-court settlement over his suspension from the NDC.
Kofi Adams said this after an Accra High Court counseled him and the party Thursday to settle his suspension by the party amicably.
The judge refused to hear a motion for summary judgement in Kofi Adams' favour after the NDC failed to enter an appearance while counsel for the party, Samuel Cudjoe also said the party did not intend to settle out of court.
In an interview with Joy FM, Kofi Adams was categorical that he was not interested in settling the matter internally and agreed with his counsel to fight the matter to its logically conclusion.
"Let me fight the case and lose it and take a decision as to whether this is an organization I will like to belong or not belong. I will not go behind the scenes and settle it as if I have gone into any pact to beg for forgiveness", Kofi Adams said.
Stanley Ahorlu, counsel for Kofi Adams said they are disappointed by the refusal of the High Court considering that his client has been "punished" through the curtailment of his membership rights to the NDC which he said were revoked without due process and regard to rules of natural justice.
According to the lawyer, his client was never given any reasonable opportunity to contradict or to respond to charges against him before he was condemned.
The General Secretary of the NDC, Johnson Asiedu Nketiah revealed that the matter is already before an arbitration committee of the party and that Mr. Adams democratic right as to how he wants to pursue the case.