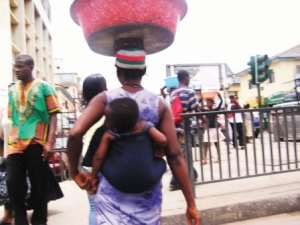 Zambulugu (N/R), May 2, GNA – The women of Zambulugu, a community near Nalerigu in the East Mamprusi District, have said they no longer need to send their daughters to the cities to do menial jobs.
This is because they are making good use of the proceeds of the Village Savings and Loans Association (VSLA) introduced to them by the Adaptation and Learning Programme (ALP) under CARE International, a non-governmental organization. This enables them to save and borrow money to invest in income generating activities such as trading and farming.
Madam Tipoa Adjei, a women's leader in the community, told journalists that many of the people are farmers but had been having poor farm yields for six
years now due to erratic rainfall and their inability to afford fertilizer until ALP offered to help them start a loan scheme.
ALP also supported the farmers with improved varieties of maize and soya bean
seeds, fertilizer and land preparation. The farmers were also trained to build up their capacity in improved farming techniques and organized to do block farming.
Mad Adjei said this helped them to get better yield from their farms, while the savings grew with time and enabled them to borrow to send our children to school by providing them with school materials.
She said the also borrowed from the money to help their husbands to expand their farms.
Madam Tipoa said the support from ALP had empowered them financially and they no longer found it necessary to encourage their daughters go to the cities to do menial jobs so as to help their mothers pay debts and buy the needed things for marriage.
Madam Alima Dabre, community women's organizer, said the support from ALP had helped to improve the relationship between husbands and wives because the women were able to help with house keep and contribute to the running of the home.
"It is rare to find spouses quarrelling seriously in this community, there is peace and our children respect and obey us because we take care of them," she added.
The ALP programme in Ghana, headed by Mr Romanus Gyang, aims at building the capacities of vulnerable households to cope or adapt to the effects of climate change.
It is working in eight communities in the East Mamprusi District and Garu-Tempane District in the Upper East District.
Mr Gyang said the programme provided a holistic analytical approach for communities to plan adaptation actions that are informed by climate science and local observation of climate change.
It trained some community members to keep rain gauges and read the amount of rains in the year so as to help them plan their farming activities. They are also supported to grow trees and preserve the vegetation cover by avoiding bush burning and felling of trees.
GNA