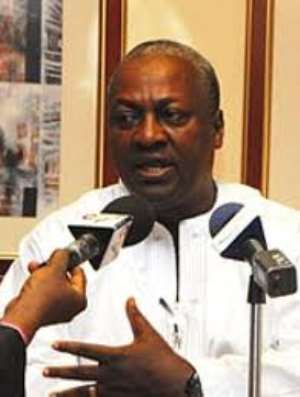 Accra, April 25, GNA- Vice President John Dramani Mahama on Wednesday called for a strong and innovative partnership between the public and private sectors to totally eliminate the mother-to-child transmission of HIV and AIDS.
He suggested that such innovations should be geared towards education on primary prevention of the disease to enable them to fight the transmission head-on.
Vice President Mahama made this call during a mother- to- child transmission of HIV summit on the theme: "Towards an HIV- free generation by 2015."
The Summit was organised by the University of Ghana-Brown academic partnership with Ghana AIDS Commission and National AIDS/STI Control programme and the Ghana Health Service.
The summit would help identify all bottlenecks in the fight against the transmission of the disease from mother to child in the coming years.
Vice President Mahama said government through its National AIDS strategic plan had drawn up a comprehensive programme to eliminate the mother to child transmission by 2015 and urged all stakeholders to live up to expectation to achieve their targets.
He said government had committed GHC150 million on the project from 2011-2015, and called on all stakeholders to denounce stigmatisation in order to enhance their chances of eliminating the disease.
"Ghana is currently among the 22 countries that are having figures in the mother to child transmission, which is unacceptable, and we therefore need to come out with a paradigm to fight the mode of transmission, " he concluded.
Dr. Angela El-Adas, Director General of Ghana AIDS Commission, noted that prevention of MTCT of HIV was a major public health challenge in the resource-limited countries, hindered by factors such as breastfeeding practices, lack of health care infrastructure and competing public health priorities in the face of limited healthcare budgets.
She added that MTCT prevention was a shared responsibility for all and urged everyone to participate in the elimination of MTCT with a target of reducing the rate to less than five per cent by 2015.
Professor Aaron Lawson, Provost of the College of Health Sciences, University of Ghana and Principal Investigator, said the university had taken a keen interest in the summit because it wished to be a centre of excellence in campaign efforts towards the elimination of HIV/AIDS in Ghana by 2015.
He said there was the need to integrate prevention and treatment in order to achieve the goal of virtual elimination of the Mother-to-Child Transmission (MTCT) of HIV in the country.
GNA