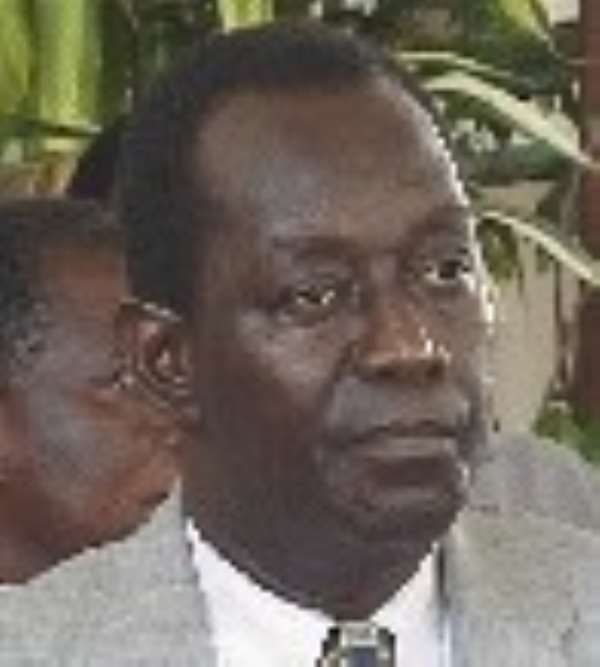 Tema, Aug. 5, GNA - Defence Minister, Dr Kwame Addo Kufuor on Tuesday said the report in the media on the attempted coup d'etat was under serious investigations by the security agencies and called on Ghanaians to remain calm because the situation was "under control".
He said, "there is, however, no cause for alarm" and warned that the national security agencies were very alert and ready to deal with any "adventurers" who would try to destabilize the nation. "Ghana in recent times has received commendation for democratic governance and its peaceful atmosphere. The government will maintain peace and security in this country and pursue the principles of constitutional rule.
"I hope the bitter experience of the people of Liberia are not lost on these people."
Dr Kufuor was reacting to today's report in the "Independent", a private newspaper on an attempted coup d'etat by some military officers, when he interacted with the Officers and men of the First Battalion of Infantry (1BN) of the Ghana Armed Forces (GAF) at Michel Camp, near Tema.
The Minister was there particularly to inspect the GAF's agro-forestry project, which was started about 18 months ago. The project, established by the Ministry of Defence (MOD) as a pilot scheme, is to stimulate interest in afforestation on the Accra Plains with the hope of improving the vegetation on the Plains and turning them into the breadbasket of the country in the medium to long term.
Dr Addo Kufuor said the country's large tracts of arable land should be put to maximum use for the benefit of the people. He said it was the intention of the GAF to support government in its attempt at afforestation and increase food production.
The Minister said that about 30 hectares has been planted at Michel Camp with cashew, mango and other forest trees and it was expected that 60 hectares would also be planted with the same species this year at the same Camp.
He said the project was an indication of the support of the GAF to the socio-economic development of the country.
He also told the soldiers and the civilian staff that government was revising their conditions of service and that in the next weeks to come the matter would be deliberated on by the Military Council.
The Chief Director of the Ministry, Mr Frank Mpare, the Army Commander, Major General Clayton Yaache, the General Officer Commanding Southern Command, Brigadier Joseph Boakye Danquah were among those who accompanied the Minister.
Mr Frank Mpare said that peace was a pre-requisite to development and that Ghanaians should eliminate all conflicts and move towards development.
Brig. Danquah said the Southern Command would ensure that peace prevailed in the country.