Multimedia ban is embarrassing; smacks of NDC's intolerance, desperation – Prof. Karikari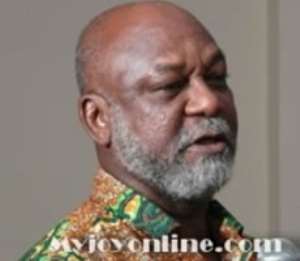 Prof. Kwame Karikari
Government's decision to ban Multimedia Group Limited from covering its public events smacks of intolerance, and embarrassing to government and Ghanaians at large, Professor Kwame Karikari of Media Foundation for West Africa has averred.
Speaking on Joy FM's Top Story on Thursday, Prof. Karikari described the government's position as dangerous and called on it to rescind that decision.
"It is a very strange policy that the government is coming out with, and it's even more strange to contemplate that a government, a whole cabinet will sit down and come out with this very bizarre position. I don't know where such a thing has happened…it is dangerous."
He further explained: "It is dangerous also because it appears that it is a signal of intolerance on what some people are calling bias which may, in some quarters, be called differences in opinion."
A Deputy Information Minister, James Agyenim-Boateng, who announced the government boycott, accused the Multimedia Group of not being fair to the ruling National Democratic Congress (NDC). He said all government departments and agencies have also been instructed not to grant interviews or advertise on Multimedia networks.
The substantive Minister of Information subsequently issued a statement on Thursday to clarify the boycott.
Bias and embarrassment
But the Executive Director of Media Foundation for West Africa said since there is the likelihood of a media organisation to be biased in some of its reports; it is difficult to comprehend what moved the government to take such a bizarre decision.
"If it is a whole government that sat and took such a decision, it is an embarrassment to the government and ultimately to Ghana."
Nevertheless, the allegation of bias leveled by the government, to him, could be flawed by public perceptions.
"It is also very strange because for sometime now some people think the Joy FM is pro-NDC, so really where do we go from here? The other day the people who stormed the Asempa FM said that the station was biased against the NPP. Now the NDC government says Multimedia Group is bias against them."
Free Press
The government's action also undermines perception that Ghana has free press, Prof. Karikari said and cautioned the government to back down otherwise "it would not be acting responsibly to those sections of the society who depend on the Multimedia Group for information".
He asserted: "I think there is something more we don't understand or that the government doesn't want to tell us. If there is nothing more to it than what they tell the public then it smacks of a certain act of desperation."