You'll remain disappointed
.... Mills tells Ghanaians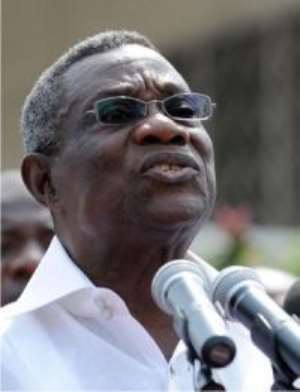 President John Evans Atta-Mills at the weekend issued a subtle warning to thousands of disillusioned NDC members as well as the suffering masses of Ghanaians.
According to President Mills Ghanaians, whether you're the founder of the NDC or disillusioned NDC members or a suffering Ghanaian, who has been disappointed with his first term in office, you better remain steadfast because you will forever remain disappointed.
He was addressing supporters of the ruling party at a rally in Accra.
In a soft and shrill tone, President Mills said, "Let us be hopeful by not paying attention to those who are disappointed because they will always remain disappointed."
This statement by President Mills was met with muted silence within large sections of NDC supporters who had gathered at Mantse Agboena, with some struggling to believe what they were hearing and some asking if the President had truly uttered those words, according to a New Statesman reporter at the rally grounds.
Thus, according to the President, the Ghanaian worker who continues to express concern about the spiralling cost of living in the country; the market woman whose items are not receiving patronage because the prices are too high; the farmer whose produce are getting rotten because the market woman cannot afford to buy them; the parent who cannot afford to pay fees of his ward; and the teeming masses of unemployed youth will not receive any reprieve.
Perhaps, also, unperturbed by the rallying cry of the Party Chairman, Kwabena Agyei, who had earlier urged all supporters to desist from acts that will affect party unity, President Mills, in his characteristically divisive nature, in a statements undid what Dr Kwabena Agyei had done.
President Mills also aimed this salvo, according to analysts, at disillusioned party foot soldiers who in three years have complained bitterly about the party hierarchy neglecting them, as well as former President Rawlings and his wife who have on countless occasions had cause to express disappointment about the way there are being treated.
President Mills was reported to have told a gathering of NDC party big wigs, before his recent trip to the USA, that he did not need the Rawlings to emerge victorious in the 2012 polls. But this assertion was shot down by the spokesperson of the Rawlingses, Kofi Adams.
He reminded the leadership of the NDC, and President Mills in particular, that many people support and vote for the NDC because of Rawlings, hence they should not delude themselves into thinking they could succeed without him.
"Rawlings has issues and those issues must be addresses. You don't think that you can just go and pick him and he will jump on and go and campaign," he added.
The former first lady has also had cause to be disappointed at the NDC congress where she was emphatically beaten receiving only 3% of the votes.
Speaking to students of the Akuafo Hall Ladies wing, Saturday, at the same time the NDC rally was being held, she said party officials conspired to have unregistered delegates vote for her challenger, President Mills.
"People who were not delegates were voting as delegates and I know all the delegates. More than a thousand or something were not delegates. They voted so I let it be because if I want to deal with it means I should take the whole bunch to court. But I just decided no it's not worth it. Let them steal it. If that makes them happy, let them steal it," Nana Konadu said.