Politicians urged to put Ghana first … above all other interests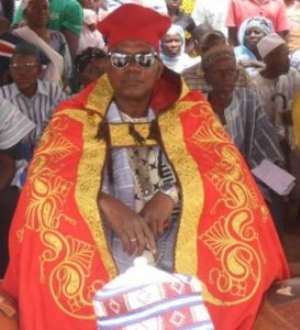 Tumu Kuoro Richard Babini Kanton VI
The Tumu Kuoro, Richard Babini Kanton VI, has appealed to politicians to put the interest of the country above other considerations, during and after the December polls.
He further called on all Ghanaians who have attained the age of 18 years and above should endeavour to participate in the biometric registration, so that they will not be disenfranchised.
He was speaking at the Paari Gbielle Festival celebrated by the Tumu traditional Area in the Upper West Region, under the theme: 'Promoting a Peaceful 2012 general election for national Development – A collective Responsibility,' in Tumu last Saturday.
The Tumu Kuoro Babini expressed his gratitude to the government for providing schools with infrastructural development in the district, and mentioned the tarring of Tumu township roads, construction of the River Sissili Bridge, construction of schools, particularly the Kanton Senior High School, Tumu Senior High Technical Secondary School, and the establishment of the Midwifery training school, and some government interventions like free school uniforms and the expansion of School Feeding Programme in the district.
He was also grateful to President Mills for his condemnation of homosexuality, and called on traditional leaders not to accept sodomy as a norm.
Kuoro Babini appealed to the government to accord Tumu municipal status to ensure the speedy development of the district, and also afford the people in the Wellembelle area the opportunity to have a new district.
He also appealed to the government to link the roads in the various communities to the district capital, so that farmers will not find it difficult travelling to and from their communities to purchase farm inputs and other requirements.
Kuoro Babini further appealed to the government to come to the aid of the Tumu Senior High Technical, which has never had a school bus since its establishment in 1991, and was also in dire need of an administration block.
Outlining the challenges in the district, Kuoro Richard Babini pointed to the lack of a major dam for the Tumu township, since the old dam, which was constructed in the 1940s, was now silted such that it can no longer hold enough water to meet the demands of the population.
He called for the rehabilitation of the sheanut industry to boost employment for the youth in the district, who drift south in search of non-existent jobs.