Portraits of the Johns launched to promote peace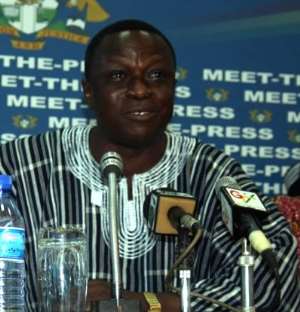 Accra, March 15, GNA - Ghanaians have been exhorted to uphold the peaceful democratic dispensation enjoyed by the country over the last 20 years, and ensure that Election 2012 becomes successful.
Mr Alex Asum-Ahensah, Minister of Chieftaincy and Culture, said in a speech read on his behalf, at the launching of 'Portraits of the Johns' that the ministry is committed to efforts that would foster peaceful atmosphere during and after the elections.
The event organised by Pure Creation Limited, a business entity was aimed at celebrating two decades of peaceful democracy in Ghana.
Pure Creation has put up elaborative programmes to honour and celebrate the lives, works and achievements of former Presidents Jerry John Rawlings and John Agyekum Kufuor and President John Evans Atta Mills for their contributions to the growth and sustainability of Ghana's democracy.
The event is to educate the populace on political tolerance, peaceful elections and electoral violence and to honour other illustrious statesmen and women and corporate institutions for contributing their quota to national stability.
Mr Asum-Ahensah said their enormous contributions had been some of the efforts that had catapulted the country into one of the fastest growing economies.
"This is a great concept that has been developed by Pure Creations and should be commended by all Ghanaians who subscribe to the notion that a country which fails to honour its heroes is not worth dying for," he said.
Mr Kabral Blay Amihere, Chairman of National Media Commission said the initiative was apt because all the three personalities had meaningfully contributed their quota to promote peace and had left landmarks, which would be judge by history.
He urged Ghanaians to uphold peaceful democracy and not take it for granted adding "I do not need to remind you about the devastating situation in countries including Cote d'Ivoire, Kenya, Egypt, Libya, and more recently Senegal.
"The vision is noble and calls for support' he said and called on stakeholders, especially Corporate Ghana to support the initiative, which is using creative arts to honour the lives of leaders.
Giving a background to the initiative, Mr Paul Boateng, Chief Executive Officer of Pure Creation said the event would include an art exhibition and encourage participation of the citizenry to support creative faculty.
Climax of the event would be the grand exhibition categorised on sector basis and peace concert in Accra from June 14-20, where some personalities and individuals would be honoured for their contributions towards 20 years of peaceful democracy.
It would include autographed portraits of high-profile citizens of past and present Presidents, Ministers of State, State institutions, and citizens who have excelled both in government and in public for the past 20 years.
"Bringing President Rawlings, President Kufuor and President Mills at a single event to promote peace and unity as we prepare for Election 2012 will foster a sense of unity in Ghanaians."
In addition, the event would serve as a platform to educate the populace on political tolerance, implications of the use of intemperate language, electoral fraud, violence, voting procedures and avenues for addressing electoral disputes.
Some of the people to be honoured are, Mr Ekow Nkensen Arkaah, the late former Vice President, Alhaji Aliu Mahama, Former Vice President, Vice President John Dramani Mahama, Speakers of Parliament such as the late Justice Daniel Francis Annan, the late Mr Peter Ala Adjetey, Mr Begyina Sekyi-Hughes, Mrs Justice Joyce Bamford-Addo and Chief Justice Mrs Justice Georgina Wood.
Presidential Candidates during the period would also be honoured including Dr Papa Kwesi Nduom, Dr Edward Mahama, Nana Addo Dankwa Akufo-Addo, Professor George Hagan, Mr George Opesika Aguddey, Major General Erskine and the late Professor Albert Adu Boahen.
"We intend to present the Ghana flag dubbed: 'The Peace Flag' to all Presidential and Parliamentary Candidates to append their signatures, to symbolise their pledge and commitment to peaceful, free and fair elections," Mr Boateng added.
The flag which would be sent to religious bodies, Electoral Commission, Security agencies and stakeholders in Ghanaian politics would finally be handed over to the National Peace Council during the grand concert.
GNA