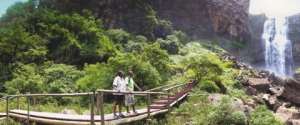 Marketing a country to the rest of the world in one snappy slogan is not an easy task, especially a multi-faceted country like South Africa that has so much on offer. So it was with much excitement when Mr Collins Chabane, Minister in the Presidency, announced last week that South Africa has a brand new pay-off line.
'After extensive stakeholder consultation by Brand South Africa, Cabinet approved "South Africa: Inspiring New Ways", as a new slogan for marketing the country,' said Chabane.
Miller Matola, CEO of Brand South Africa, was particularly pleased with the approval by Cabinet, and subsequent announcement - saying that much hard work had been put into the thinking behind the new slogan. He says, 'South Africa's remarkable transition from pugnacious pariah state to one of the world's most-important regional powers, has been matched by a diligent management of its global brand.'
Matola points out that South Africa has recognized that every country in the world has a particular brand – or a way in which the country is perceived. He says, 'The active management of that brand brings trade, tourism and investment, resulting in more jobs and economic growth'.
The new slogan replaces the previous one: Alive with Possibility. 'Our country has moved to a different phase of its development, says Matola, 'South Africa has moved beyond possibility to delivery. Our delivery has necessitated a change in the brand positioning, to keep up with, and lead the way that we are perceived by the world. It is for this reason that we have developed a new brand expression'.
Matola says the fact that South Africa continues to inspire the world with unique ways of overcoming challenges and unique insights into how to do things a little differently. He says, 'South Africa: Inspiring new ways' is both a description of the best of our national character, our values and the fabric of our people. It is a challenge to all South Africans, to business, government and civil society to build on our reputation for inspiration and innovation'.