Media Fund To Be Disbursed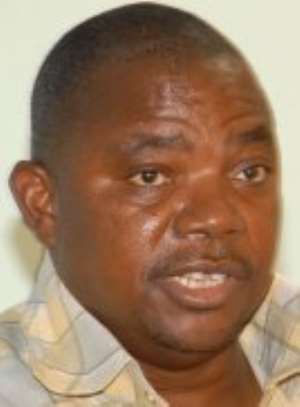 Ransford Tetteh - GJA President
A conference to outline modalities for the disbursement of the proposed Media Development Fund is to be held today, Thursday.
The conference comes on the heels of the government's decision to ensure that the fund becomes operational by the second quarter of this year.
A Deputy Minister of Information, Mr Samuel Okudzeto Ablakwa, told the DAILY GRAPHIC that the seed capital of GH¢1 million announced by the government in the 2012 budget was ready to ensure a successful take-off of the fund.
The fund, expected to be administered by a board of trustees, is intended to improve the professional output of Ghanaian journalists, provide media organisations with technical support and offer personnel adequate training, all aimed at improving their professional output and competence.
Mr Ablakwa indicated that Ghana's thriving democracy demanded a vibrant media to keep politicians on their toes and make them accountable.
The National Media Commission (NMC), the Ghana Journalists Association (GJA), the Institute of Public Relations (IPR) and the Ghana Independent Broadcasters Association (GIBA) are expected to participate in the one-day event.
The Private Newspaper Publishers Association of Ghana (PRINPAG), senior media practitioners and communication experts are also expected to attend.
"The brainstorming session is to allow all stakeholders to agree on modalities for the disbursement of the fund," he said.
The deputy minister said the government envisaged that a board of trustees would be put in place to oversee the disbursement of the fund, adding that donations would be welcome from corporate organisations and interest groups as a way of ensuring sustainability of the fund to cater for future generations.
He said deliberations at the conference would inform the government's decision to operationalise the fund.
He debunked suggestions that the fund was a ploy by the government to induce journalists to do its bidding, particularly with the approach of the December polls, saying, "A society with a mediocre media would have difficulty upholding accountability."
"It is the government's expectation that media practitioners and organisations will start benefitting from the fund as soon as it takes off in the first week of the second quarter," Mr Ablakwa said.
He gave an assurance that the government would take all contributions and concerns that might come up at the conference to ensure that the inherent bottlenecks that were likely to hinder the take-off were eliminated.