Libya brigades promise to turn over strategic sites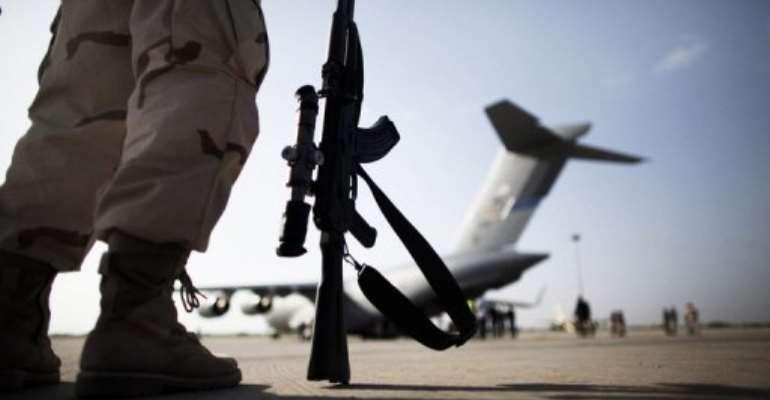 TRIPOLI (AFP) - Libyan militias who helped oust Moamer Kadhafi promised on Thursday to turn over to the interim government strategic sites, such as airports and border crossings, that they have held since capturing them in last year's uprising.
The commitments were made during the final day of a conference in Misrata, at which Libya's proposed national charter was unveiled ahead of June elections to a constituent assembly that will finalise a new constitution.
As the meeting of dozens of civic leaders from across Libya ended, there was widespread rejection of a federal state as proposed by tribal and political activists in Benghazi earlier this week.
"Libya is one, only one," became the mantra at the closing of a conference, which was televised.
Interim leader Mustafa Abdel Jalil said on Wednesday that the National Transitional Council would use force, if necessary, to preserve the unity of the country.
Rights groups warn that unbridled militias pose the greatest challenge to stability in the north African nation, which is seeking to build state institutions from scratch after four decades of dictatorship under Kadhafi.
Many sensitive sites, including the Tripoli airport and official buildings, remain under the control of so-called revolutionary brigades.
This and a unilateral move to declare the oil-reach east as an autonomous territory has put pressure on Libya's ruling National Transitional Council (NTC) to tighten its grip.
Strong support in the Mediterranean port city of Misrata, Libya's third largest, was punctuated with promises made by brigade and tribal commanders to hand over sites to state authorities without delay.
"We are ready to hand over our checkpoints on the southern borders," said a tribal and military representative from the southern town of Waw al-Kabir.
"Even though there are remnants of Kadhafi's regime in Niger, the borders of Libya cannot be crossed," he said sparking thunderous applause.
There are more than 50 airports in Libya, with every city boasting one, as well as air bases and landing strips in smaller towns and at oil fields.
Tribal leader Ahmed Abdel Jalil al-Hisnawi said his people were ready to hand over the airport of Wadi al-Shati, near the southern city of Sabha.
"The brigade of Abedad announces its adhesion to the ministry of defence," declared its commander.
Another commander said "the brigade of Daraa al-Janub is willing to hand over its border checkpoints to the government without delay."
Meanwhile, Yussef bin-Yussef, head of Misrata's civil council, told AFP talks were underway in the city on the subject of handing over control of all ports of entry, including the airport, to the NTC.
"Revolutionaries agree to handing over control of the entry ports," he said, adding that details and the schedule for that transfer of responsibility would be determined in the coming weeks.
Earlier this week, Interior Minister Fawzi Abdelali told AFP his "greatest challenges" were taking over state-institutions and border controls, currently in the hands of revolutionary brigades, and monitoring borders.
He said the problem is two-fold: some groups resist leaving but the embryo state also lacks the capacity to assume all responsibilities, including the patrol of vast borders, without the help of the brigades.
"The EU needs to help us -- it is in their interest too," he said.
From Friday, Libya is hosting a four-day regional conference on common security in which the subject of border controls is likely to be discussed, according to the foreign ministry.