Third-place Niasse backs Sall in Senegal vote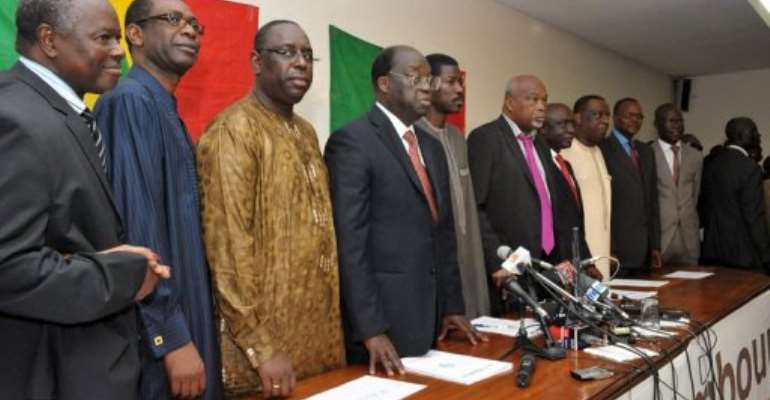 DAKAR (AFP) - Senegal opposition candidate Macky Sall has won a major boost in his bid to oust President Abdoulaye Wade in a run-off vote, securing the endorsement of the man who came third in the first round.
The west African nation's main opposition movement has also called on its supporters and other failed candidates to rally behind Sall, who will challenge the 85-year-old Wade in the second round election on March 18 or 25.
"We are joining hands in order to take the lead... We are not far from that goal," Moustapha Niasse said after meeting Sall on Thursday, local media reported Friday.
"Change is inevitable," added Niasse, who came third in the first round vote on February 26 and like Sall is a former prime minister.
Wade is bidding for a controversial third term in office in a move that has triggered weeks of sometimes deadly protests in Senegal, a country usually regarded as a beacon of democracy in west Africa.
Wade, who has been in power for 12 years, garnered 34.8 percent of the vote in the first round, but fell humiliatingly short of the majority needed to avoid a run-off.
His 50-year-old rival Sall won 26.5 percent of the vote while Niasse trailed with 13.2 percent.
Sall hailed Niasse's "patriotic" decision to unite behind his candidacy, promising to "put in place a government of the people".
The opposition June 23 Movement (M23) urged its members, including Niasse and other failed candidates, to "prove their patriotism and put aside their personal problems for the superior interest of Senegal" and support Sall.
"We must all mobilise together, to deliver the killer blow and put an end to this regime," M23 coordinator Alioune Tine said Thursday.
Sall has also won the influential support of homegrown music icon Youssou Ndour in his bid to thwart the sit-tight leader.
"The change is already there, now it is just a matter of putting it into action," Ndour told journalists after meeting with Sall.
UN chief Ban Ki-moon on Thursday called for "civic responsibility" in Senegal ahead of the second round.
"As the country prepares for a second round of voting to determine its future leadership, the secretary general appeals, once again, for the same spirit of civic responsibility and democratic commitment to prevail throughout the process," his spokesman Martin Nesirky said.
Nesirky said the United Nations "will continue to support national efforts towards a peaceful, credible and transparent conclusion of the presidential election in Senegal."
Meanwhile, M23 has called a gathering on Saturday in Dakar in memory of the six people killed in rioting ahead of the first round vote.