Egypt judge sets Mubarak verdict for June 2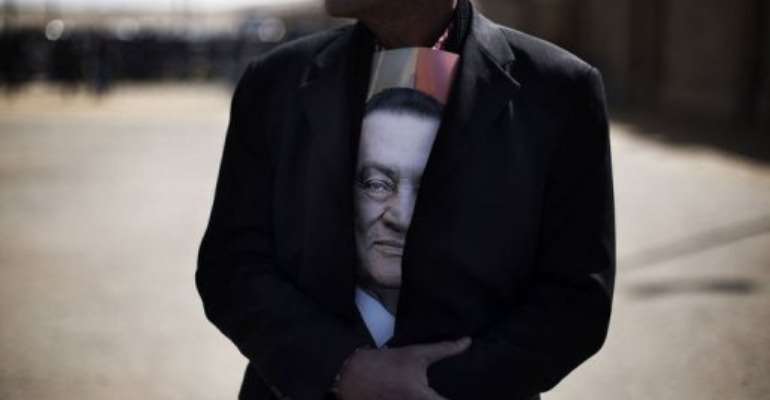 CAIRO (AFP) - The verdict in the landmark murder and corruption trial of ousted Egyptian dictator Hosni Mubarak has been set for June 2, Judge Ahmed Refaat said on Wednesday.
Mubarak, his former security chief Habib al-Adly and six security chiefs could be sent to the gallows if convicted of complicity in the deaths of peaceful protesters during the uprising that overthrew him.
The verdict will be the final chapter in a tumultuous year for Mubarak, who ruled Egypt with an iron fist for 30 years and was unseated by the 18-day uprising last year.
His sons Alaa and Gamal, the old regime's symbols of wealth and power, are being tried in the same case for corruption.
At Wednesday's final hearing, Adly, Mubarak's former interior minister, blamed foreigners for the killing of protesters in the 2011 revolt.
More than 850 people were killed in the mass nationwide protests, and thousands more injured.
Adly addressed the court for more than an hour and a half, speaking of a "conspiracy" against Egypt.
He said that "foreigners" had killed the protesters, and that they had climbed on the rooftops of buildings and shot them.
He blamed Lebanese Shiite group Hezbollah and Palestinian Islamist movement Hamas for sending infiltrators, and said the plot against Egypt was continuing to this day.
Adly defended himself and the police against charge of murder, drawing applause from some police officers standing at the back of the courtroom.
Mubarak and his two sons did not speak at the trial, leaving his lawyer Farid el-Deeb to speak for them.
Cameras are not allowed inside the courtroom and state television did not show Mubarak or the defendants arriving in court. In previous sessions, his arrival by helicopter and his wheeling into court on a stretcher were aired live.
At the hearing, prosecutors told the judge the medical wing of Cairo's Tora prison was ready to receive Mubarak, state television reported, following mounting calls to move him from hospital to prison.
Dozens of Mubarak supporters and opponents gathered outside the courthouse, separated by police.
Both sides chanted and held up banners. One man in the anti-Mubarak crowd held a noose aloft to underline calls for the once all-powerful strongman to face the death penalty.
Mubarak could in theory hang if found guilty. The prosecution has called for the death penalty. But if sentenced, the former president would be able to appeal, according to judicial sources.
The trial was supposed to be a historic moment when the dictator is brought to justice by his long-suffering people but it has been widely criticised as little more than political theatre.
The case is legally weak, lawyers have said, charging that the prosecution has taken to the microphone to deliver sermons rather than hard evidence.
The trial itself, which began in August, has been choppy -- a short investigation period, brief hearings, a three-month hiatus, incomplete testimonies and a speedy ending, the lawyers said.
Activists who joined the protests that toppled Mubarak last year say they would have rather seen him tried for abuses and mismanagement committed during his 30 years in power than for events that took place during a few days of the uprising.
Mubarak also shares the defendants' cage with his two sons, Alaa and Gamal.
The ruling military council, headed by Mubarak's long-time defence minister Field Marshal Hussein Tantawi, has been eager to prove it harbours no loyalty to its former master.
The Supreme Council of the Armed Forces has been the target of protesters' anger for months over accusations of mismanagement and human rights abuses.
If Mubarak is convicted, his lawyers and legal experts believe there would be strong grounds for appeal. His acquittal could further inflame the growing protest movement against military rule.