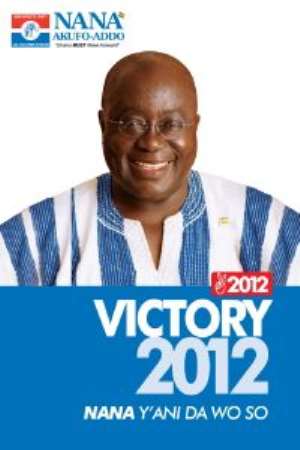 - Says Campaign Manager
The Presidential Candidate of the New Patriotic Party, Nana Addo Dankwa Akufo-Addo, has a solid, unbeatable and incontrovertible record of accomplishment in public service that puts him ahead of President John Evans Mills, whose record has been characterized by lack of leadership, influence and direction, says Kyeremateng Boakye Agyarko.
According to Nana Akufo-Addo, functionaries of the Mills-Mahama led administration have resorted to campaign of lies, insults and vilification against his personality because they do not have any solid record upon which to market the president.
  Speaking exclusively to the New Statesman yesterday, Mr Boakye Agyarko noted that Nana Akufo-Addo "as leading human rights activists, a renowned legal practitioner, a distinguished diplomat and a seasoned politician, discharged his responsibilities creditably   and with a high sense of integrity, and demonstrating the kind of exceptional leadership that our country badly needs at this time in our development."
What puts Nana Addo above President Mills, in the view of his Campaign Manager, is the fact that he does not profess one virtue and turns round to do otherwise; neither does he allow people around him to do the contrary.
"It is a public record that Nana Addo has never been involved in any corrupt act in his public life, but even to Nana Addo, what is most important is that his incorruptibility should be brought to bear on people who work with him, because the virtue of being incorruptible is not important if corruption is all around you as a leader," he stated.
Mr Agyarko urged the electorate to have confidence in the ability of Nana Addo to provide an effective leadership that would salvage the nation from the current leadership paralysis.
He stressed: "Nana Addo is coming into the presidency with a solid worth of political and managerial experience, with a resolute character and strong will that puts him in a position of such an influence that no one will dare to disregard his directives as it is being experienced under the Mills' presidency."
Touting the impeccable record of the NPP flagbearer, Mr Boakye Agyarko stated that Nana Addo, at age 33, became the General Secretary of the broad-based People's Movement for Freedom and Justice, which was composed of political stalwarts such as Akwasi Amankwa Afrifa, William Ofori-Atta, Komla Agbeli Gbedemah, Adu Boahen, Sam Okudzeto, Obed Asamoah, Godfrey Agama, K.S.P. Jantuah, Jones Ofori-Atta, Johnny Hanson and Nii Amaah Amartefio (Mr. No).
This group, according to Nana Addo's campaign manager, led the "NO" campaign in the UNIGOV referendum of 1978, ultimately bringing about the downfall of the Acheampong military government on 5th July, 1978, and the restoration of multi-party democratic rule to the country in 1979.
Advertisement
"Again in 1995, Nana led the famous 'Kume Preko' demonstrations of the Alliance For Change, a broad-based political pressure group, which mobilised more than a million people onto the streets of Ghana to protest the harsh political and economic conditions of the Rawlings era. It is well established that those demonstrations helped create the environment for the victory of the NPP in the 2000 elections", Boakye Agyarko added.
He continued: "Akufo-Addo was elected three times between 1996 and 2004 as Member of Parliament for the Abuakwa South constituency in the Eastern region of Ghana. From 2001 to 2007, as Cabinet Minister, first as Attorney General and Minister for Justice and later as Foreign Minister for five years, Nana served President Kufuor with brilliance and distinction".
It is on record that as Attorney General, Nana Akufo-Addo was responsible for the repeal of the Criminal Libel Law, a law that had hitherto been used to intimidate the media and criminalise free speech. The repeal, acknowledged by all, has enabled the Ghanaian media become one of the most vibrant and freest in Africa. Also, under Nana Addo's Chairmanship of the Legal Sector Reform Committee, the implementation of the court automation programme was initiated.
Also as Foreign Minister, Nana Akufo-Addo was fully involved in the successful ECOWAS peace efforts in Sierra Leone, Liberia, Cote d'Ivoire and Guinea Bissau, and was chairman of the ECOWAS Mediation and Security Council in 2003.
In 2004, Ghana was elected one of the 15 pioneer members of the African Union Peace and Security Council, a mandate which was renewed at the AU Summit in Khartoum in January 2006. Nana Akufo-Addo was chosen by his peers on the AU Executive Council to chair the Ministerial Committee of 15 that fashioned the "Ezulwini Consensus" which defined Africa's common position on UN Reforms. He negotiated for the 2007 AU Summit to be held in Accra as part of Ghana's Golden Jubilee celebrations, and chaired the AU Executive Council in 2007.
Ghana, with Nana Addo as Foreign Minister, was elected by her peers to take the non-permanent West African seat on the UN Security Council for 2006-2007.   In August 2006, Nana Akufo-Addo chaired the meeting of the Security Council which took the decision that halted Israel's massive incursions into Lebanon.
Again, Ghana was elected to the new UN body, the Human Rights Council, with the highest number of votes – 183 out of 191 -   of any country, and as a pioneer member of another UN body, the Peace Building Commission.