Senegal police fire tear gas to disperse protest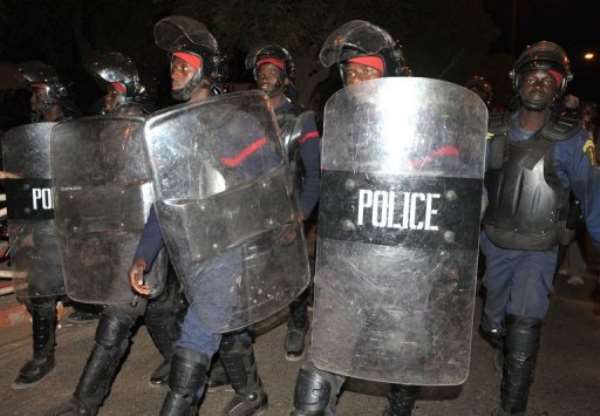 Police block youths in Dakar on Tuesday night. By Seyllou (AFP/File)
DAKAR (AFP) - Riot police fired tear gas Wednesday to disperse protesters attempting to assemble for a banned march against President Abdoulaye Wade's third-term candidacy in February 26 elections, an AFP journalist reported.
Scores of police pushed back groups of opposition protesters who attempted to converge in the suburb of Medina, later firing tear gas as they tried to begin the march to Independence Square in the heart of the city.
However shortly after at the square, where riot police had camped out since early morning, volleys of tear gas were fired to disperse scores of people who gathered there separately.
Someone had spraypainted "Wade Degage (Get out Wade)" on the street circling the square.
With less than two weeks until the election, government has blocked the opposition from protesting, and police on Tuesday blocked youths from settling in another square in Dakar where they planned a permanent sit-in.
Interior Minister Ousmane Ngom told the opposition in a statement received by AFP: "I inform you that the demonstrations you plan cannot happen at the foreseen date and place."
In the message to leaders of the June 23 Movement (M23) the minister warned: "The administration will take all its responsibilities to ensure the safety of people and property."
Before the ban was announced, M23 coordinator Alioune Tine declared: "We are going to hold our march tomorrow -- nobody can stop us. We condemn the Senegalese administration's biased attitude. At this rate, it will end up being responsible for violence."
On January 27, when the country's highest court validated Wade's candidacy for a third term which the opposition says is unconstitutional, violent protests erupted in Dakar and spread through the country, leaving four people dead.
M23, which includes several presidential candidates, have vowed unity in pressuring Wade to step aside, but their campaign of resistance has appeared to lose steam in recent days.