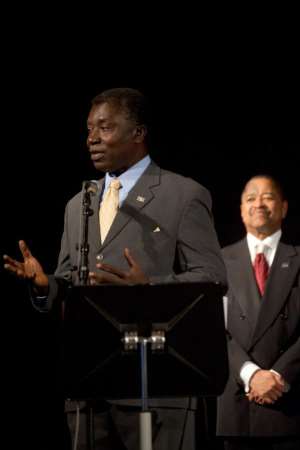 Professor Kwabena Frimpong-Boateng delivering his acceptance speech with OU President Roderick McDavis behind.
Professor Kwabena Frimpong-Boateng, the winner of the 2012 edition of the African Heroes Award, received the prestigious award in Athens, Ohio, Sunday, February 12, 2012. This year marks the 20th anniversary of the award. Instituted to mark the release of the former South African President, Nelson Mandela, from 27 years of incarceration, marking the end of apartheid, and dedicated to him, it is in recognition of exemplary leadership, selfless contribution, and enduring commitment to improving the lives of people of African descent both on the continent and in the diaspora.
This year's award honors Professor Frimpong-Boateng for his pioneering role in cardiovascular care in Ghana and beyond. The Cardiothoracic Center, which he helped established at Ghana's main teaching and referral hospital, Korle-Bu, has become a sub-regional center of excellence, where cardiovascular care including the training of students from across the African region are trained.
In a speech to mark the 20th anniversary of the award for which Professor Frimpong-Boateng was the proud recipient, the first African-American President of Ohio University, President Roderick J. McDavis, extolled the virtues of those who had gone before them, praised the Ghanaian spirit, and celebrated Professor Frimpong-Boateng. "It is the sacrifices of those who had gone before us who made it possible for us to have this opportunity today. You chose to give of yourself to improve the human condition. In spite of all the attractions of a comfortable life in Germany, you chose to place your exceptional skills where they are most needed, Ghana. Tonight I am proud to join with the African Students Union to celebrate you. When the history of Ghana is written, your contribution will stand out."
President McDavis also pointed out that since taking office in 2004, he has made eight international trips, but the people of Ghana have left a soft spot in his heart. He praised the Ghanaian hospitality and jocularly counseled Ghanaians to consider exporting their friendliness to other countries.
In his acceptance speech, Professor Frimpong-Boateng thanked Ohio University for the award and pointed out that the struggle ahead for the survival of African states is greater than the fight for political independence that was fought years ago by great Africans such as Nkrumah of Ghana, Jomo Kenyatta of Kenya, Sekou Toure of Guinea, Modibo Keita of Mali, Tafawa Balewa & Namdzi Azikwe of Nigeria, Samora Machel of Mozambique and Mandela of South Africa. He cautioned "we cannot disappoint ourselves and our people. We cannot disappoint our friends in OU who are providing us with some of the tools we need to succeed. To win the fight we have to conquer our individual weaknesses. Do not follow the line of least resistance. That is what rivers do and they are crooked."
Professor Frimpong-Boateng arrived on Ohio University campus on Friday, February 10, 2012 to do an interview for the university radio, WOUB, which will be aired on Sunday, February 19, 2012 at 12:00 P.M. Eastern Time and again on Tuesday, February 21, 2012 at 9:30 A.M. Eastern Time on WOUB-AM 1340 (streaming at: http://woub.org/listen/studiob ). Soon after this interview, he delivered a lecture organized by the Center for International Studies, Ohio University, on the topic: "Factors Hindering Africa's Development." He lamented the technology gap that is keeping the continent from assuming its rightful place among continents of the world. In his estimation, "because of the apparent refusal to adopt science and technology in development, most African countries have not been able to change the structure of their economies since political independence and still rely on the export of raw materials such as cocoa, gold, timber, bauxite, diamond, manganese and oil, all in the raw form. There is absolutely no value addition. This is what I term Adam and Eve Economy. Noah did better than Africa is doing now; at least he manufactured a ship that was absolutely seas worthy."
The day was capped with a tour of the Heritage College of Osteopathic Medicine for him to acquaint himself with some of the latest technologies in the field of osteopathic medicine.
There was a dinner in his honor on Saturday, February 11, 2012, which was attended by the university community, especially African Students. Sunday, February 12, 2012 marked the grand event at which he received his award.
Recent recipients of the award were the Sudanese politician, Rebecca Garang, wife of the late first Vice-President of Sudan, Dr. John Garang, and an adviser to the current President of South Sudan. Others were Dr. Philista Onyango, the Regional Director of the African Network for the Prevention and Protection against Child Abuse and Neglect (ANPPCAN) and Professor Steve Howard, the Director of the African Studies program at Ohio University.