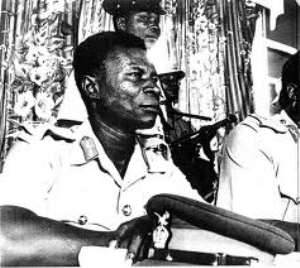 My answer is yes.
Anytime I must respond to this question, I tremble.
April 17 was the day he was killed fifty years ago. The day passed unmarked albeit by a solemn ceremony in our native village Fiaxor in the Keta Municipality of the Volta Region.
Frankly, I may not be the best person to defend Gen. E. K. Kotoka. Simply because he is my big cousin by the Fiaxor connection and I cannot resist the temptation to be biased.
However, this does not cloud my assessment of this General in the political history of Ghana.
I firmly believe that the seeds of the *electoral democracy* we enjoy today, which is touted by political pundits as one of the best in Africa was planted by him.
Many of us have been educated to believe that the Osagyefo Kwame Nkrumah was infallible. But I have grown to unlearn and relearn that history of Ghana.
Gbedemah bore the financial and organizational brunt of the CPP while Nkrumah was in prison.
Gbedemah delivered the entire Southern Volta to the CPP. What did he get for it? Imprisonment and exile.
Is that sufficient for the overthrow of Nkrumah's government by another Anloman?
No.
At the time of Dr. Nkrumah's overthrow, Ghana had become a one party state, and Nkrumah a life president and a King. His ministers as Princes and Princesses in tow. The royalty behavior you see in the politics of Ghana today was hatched at the time and passed down to their progenies today, and it is being copied by new lecherous political bourgeoisie.
How else can you change a one party state government, its life president, and its elite soldiers roaring, 'Nkrumah Never Dies' peacefully?
If you cannot imagine what Ghana could have become with Nkrumah still as president, please ask H.E. President Robert Mugabe.
Anyway, history will remain a guide, only if narrated truthfully and honestly.
Mayor Agbleze, Mining & Natural Resource Economist