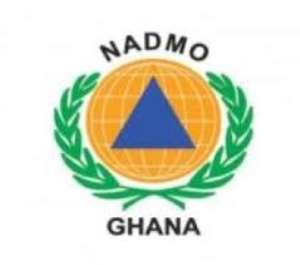 Elmina (C/R), Feb.6, GNA – Ms Christina Edmund, a Director, at Ministry of the Interior, on Monday commended the National Disaster Management Organisation (NADMO) for undertaking challenging activities and playing a strong co-ordinating role in the country.
"NADMO has prepared an elaborate plan aimed at reducing risks to disaster and implementing programmes to build the resilience of Ghanaians to disaster, in search and rescue, rapid needs assessment and relief administration".
Ms Edmund made the commendation when he addressing the opening session of a five-day workshop on National Pandemic Disaster Response Tabletop Simulation Exercise at Elmina.
The tabletop exercise was designed to assist participants in the identification of shortfalls and gaps in the existing plans and provide recommendations for building national and regional capacity.
It was developed by the Centre for Disaster and Humanitarian Assistance Medicine, in support of the United States Africa Command, the United States Agency for International Development and Government of Ghana.
She noted that emergencies resulting from a pandemic required special strategy, tactics and operational plans.
The goal of the workshop was to assist government in identifying gaps in existing pandemic plans, facilitate the development of a comprehensive national pandemic preparedness and response plan, and lay the groundwork for building future disaster response capacity.
It is also to assist in developing a national multi-sectoral response to pandemics and other hazards, to promote inter-operability and enhance capacity of the government to respond to complex humanitarian emergencies.
Ms Edmund said the few pandemics the world had experienced in the past few decades claimed several thousands of lives and affected several people in many countries, "Since pandemic in one country may take a very long time to affect the entire world".
"Preparing to respond to a pandemic today is, therefore, not an option but obligatory if we wish to perpetuate life on this planet".
Ms Edmund advised the more than 60 participants drawn from the West African Sub-Region, Burkina Faso, Senegal, Nigeria, Togo and Ghana, to approach the exercise with utmost seriousness and said the: "The nation and sub-region would rely on us to reduce pain and suffering in the event of a pandemic and we cannot afford to disappoint them".
Brigadier General Stacy Harris, Head of US Africa Command, said: "Dealing with a pandemic, from planning to post operation phases, is a high priority for the US Government".
The Head of African Command said one of Africa's command strategic objectives was "Assisting partner nations and protecting populations from deadly contagion".
"Reviewing our current capabilities and capacities will assist in identifying areas where we need to work together when responding to a complex humanitarian emergency."
Brig. Gen. Harris explained that the role of Africa Command's Pandemic Response Programme would assist in strengthening African to partner the military in other nations to respond to pandemic in, support of national pandemic preparedness and response plan.
Mr Kofi Portuphy, National Coordinator of NADMO, said the exercise would be of benefit to African countries.
He expressed gratitude to the military and other security agencies for their support, especially during the recent floods that affected parts of Accra.
GNA