As protests fade, Nigerians left to cope with fuel hike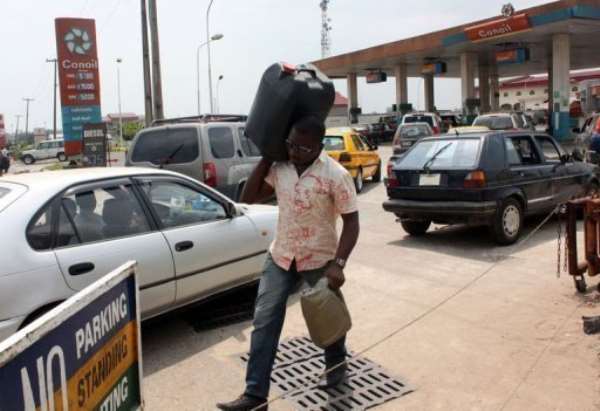 Nigerians are having to cope with petrol prices that, despite the president's compromise, remain far higher. By Emmanuel Arewa (AFP/File)
LAGOS (AFP) - Lukman Ayodeji makes his living pumping air into tyres next to a tattered shack in a bustling Lagos market -- and now he's worried he'll end up flat broke.
His pump runs on a small generator, and a litre of fuel is some 50 percent more expensive than it was on December 31 thanks to a partial scrapping of fuel subsidies, which many see as their only benefit from the nation's oil wealth.
Ayodeji tried to compensate by charging 50 naira ($0.30, 0.22 euros) per fill up, a 20-percent price increase, but that strategy has not enjoyed overwhelming success.
"The business is not moving properly," said the 40-year-old, explaining that customers continually haggle for lower prices. "People are paying but they are dragging a bit."
A nationwide strike and protests that brought tens of thousands into the streets in Nigeria over fuel prices last month have begun to fade into memory after a compromise by President Goodluck Jonathan and a military crackdown.
But Nigerians are now left coping with petrol prices that, despite the president's compromise, remain far higher -- and activist groups are vowing to hold the government to account over promises to spend the subsidy money wisely.
Nigeria, Africa's largest oil producer and most populous nation, remains a country where most of the 160 million population live on less than $2 per day and where there is widespread frustration at the deeply rooted corruption.
Even with his struggles, Ayodeji has had better luck than others in Lagos' Oshodi market, where Ola Ebiola sells, among other drinks, cold satchels of water to fellow traders.
She powers her fridge with a generator, and that means keeping the water cold is costlier now, prompting Ebiola to flirt with a price hike: she tried charging $0.06 instead of $0.03.
"People are complaining!" bellowed the 40-year-old, adding that she often backs down.
Jonathan cancelled the fuel subsidy without warning on January 1, saying the programme was riddled with corruption and that $8 billion a year in savings could be better spent on sorely-needed public investment.
Fuel prices doubled overnight and many Nigerians swiftly fought back. Tens of thousands poured onto the streets to protest and the country was paralysed by a week-long nationwide general strike.
Jonathan partly capitulated, agreeing to a compromise price of 97 naira, or $0.60 per litre, 20 cents more expensive than the fully subsidised price, but less painful than the $0.87 charged immediately after the programme was annulled.
But the nascent protest movement appears to have deflated, even as the new petrol price starts to bite.
Some say the current situation can't hold and that the country will again erupt amid rises in the cost of living and doubts that the government will spend its savings as promised.
"There is no way an average worker can sustain itself at 97 naira," said Abiodun Aremu, secretary general of the Joint Action Front, which partly organised the January protests.
"So the prospect of a massive uprising is there."
Cyberactivists and others say they are determined to track post-subsidy savings in a bid to make the government accountable.
"Money 'saved' on fuel subsidy removal as of Feb 1st: N58.94 billion (approx $368 million)," reads a banner headline on the Enough is Enough Nigeria Coalition website, a group that also helped mobilise the January strikes.
Research coordinator Jide Aluko told AFP the group doesn't necessarily oppose ending the subsidy, a move that many saw as well-intentioned given the programme's evident inefficiencies.
"What we are saying is, 'OK, now that the fuel subsidies are partially gone, you have a certain amount to spend on those things that you promised,'" Aluko said. "So we want to know...how much are you spending on those things?"
The campaign has spawned a series of Twitter accounts under the umbrella #OccupyNigeria and offshoots such as #CutGovernmentWaste.
The Twitter feeds feature often satirical commentary on the government's ongoing probe into the subsidy programme and barbs at signs of extravagant government waste.
Both activists said their groups would press on with efforts to mobilise further protests to either reduce the price of fuel or curb corruption, but few in the Lagos market were optimistic.
"The price won't go down," said Ayodeji.
"We have to just manage it," he added, a sentiment shared by many in the market.
And his expectations for how government should spend the savings are relatively modest.
"When they give us light, water, everything will be OK."