Fear mars Sunday prayers in flashpoint Nigerian city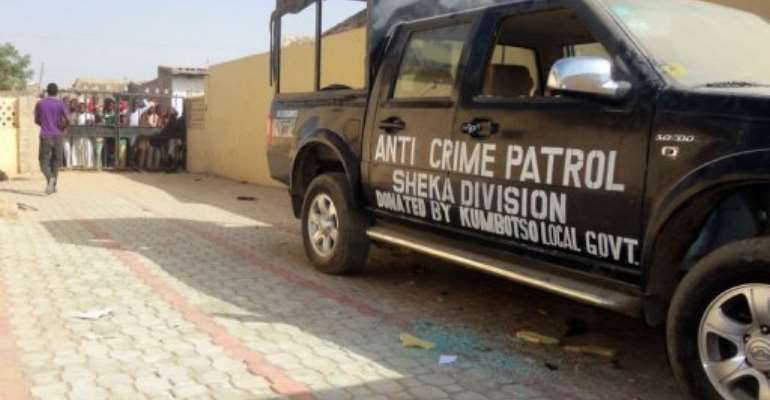 KANO, Nigeria (AFP) - Christians in Nigeria's city of Kano were searched outside church on Sunday by troops on alert after Islamists who recently killed 185 in the city vowed their violent campaign would go on.
Some in the flashpoint northern city avoided services entirely, fearing fresh attacks by the Boko Haram Islamist sect whose daring insurgency has shaken African's most populous nation and top oil producer.
"I and my family stayed and prayed at home," said Kano resident Kola Adesina, 42. "We decided to skip church today because were afraid there could be attacks by Boko Haram."
The Islamists, whose name means "Western Education Is a Sin," are blamed for the deaths of more than 900 people in roughly 160 separate attacks since July 2009.
They had largely spared Kano, Nigeria's mainly Muslim second city, until an unprecedented January 20 gun and bomb assault that killed at least 185 people, and largely targetted police posts.
Boko Haram warned Kano residents that their strikes against security services would continue and urged perseverance as the group fights to install an "Islamic system," in a leaflet distributed around the city overnight.
Boko Haram is aware of "the atmosphere of inconvenience our operations have thrown people into," said the leaflet, whose content could not be independently verified but was described as a message from the sect's chief, Abubakar Muhammad Shekau.
"You should ... persevere with the difficult situation the struggle for the entrenchment of an Islamic system puts you in and seek reward from God by supporting it," it said.
The text said Boko Haram tries to avoid harming civilians and targets only government officials, security personnel and those who support a group that has urged Christians to defend themselves against Islamist attacks.
Doubting that baseless pledge, Jerry Ugachukwu, 33, said he felt uneasy while praying in Kano on Sunday.
"I am relieved that everything ended peacefully," he said.
The military and police guarded the city's churches and worshippers were frisked before being allowed to enter, according to an AFP reporter.
Crowds were thin and services ended earlier than usual because of security concerns, worshippers told AFP.
Boko Haram has targetted Christians, notably on Christmas Day when dozens were killed in a series of bombings -- the deadliest of which claimed 44 lives outside a Catholic church near the capital Abuja.
Some political leaders deny suggestions that the Islamists' insurgency is linked to religious tensions in Nigeria, which is divided between a mainly Muslim north and mainly Christian south.
They claim the group is increasingly tied to foreign like-minded organisations such as Al-Qaeda.
Others however say Boko Haram's motives are narrowly domestic and that it is boosting its strength by exploiting deep-seated religious tension in Nigeria, where most people live on less than two dollars a day and corruption is endemic.
But as its attacks have escalated its objectives remain largely unknown.
Heavily criticised over his failure to stem the violence, President Goodluck Jonathan urged the group to enter dialogue in a media interview this week.
But Jonathan's call for talks was "not sincere," purported Boko Haram spokesman Abul Qaqa told journalists by telephone in the northeastern city of Maiduguri, regarded as the group's stronghold.
"We don't think dialogue is possible under the current situation," he added, accusing the government of "double-speak," in calling for dialogue while illegally arresting Boko Haram members and desecrating Islam.
The group launched an uprising in 2009 that was put down by a brutal military assault.
It fell dormant for about a year before re-emerging in 2010 and is now believed to have a number of different factions, including a hardcore Islamist cell.