Protesting Nigerian workers to shut down oil production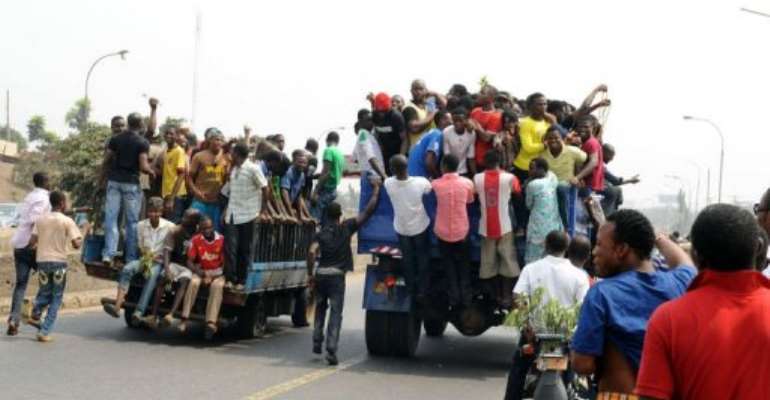 LAGOS (AFP) - Nigerian oil workers vowed Thursday to begin shutting down production of Africa's top crude exporter, piling intense pressure on the government on the fourth day of a nationwide strike.
Raising the possibility of a deal however, labour leaders were holding their first meeting with President Goodluck Jonathan since the strike began, while the petroleum minister signalled there was room for compromise.
While the strike this week has paralysed the country and brought hundreds of thousands of people out into the streets in protest, oil workers have so far not moved to halt production of crude -- the country's economic lifeblood.
Union officials and analysts have said shutting production would only be done out of desperation due to the damage it could cause to a country that derives some two-thirds of government revenue and more than 90 percent of export earnings from the industry.
"From Sunday, we are shutting down," said Babatunde Ogun, president of the PENGASSAN oil workers union.
He said the union was demanding that the government return petrol prices to 65 naira per litre ($0.40, 0.30 euros), the level before January 1, when fuel subsidies were abruptly halted.
The strike and protests have put the government under mounting pressure as it also seeks to stop spiralling attacks blamed on Islamist group Boko Haram -- with the violence sparking some to evoke the possibility of civil war.
Hundreds of thousands have gathered across cities for protests against the January 1 removal of fuel subsidies that doubled the price of petrol overnight.
Nigeria exports around two million barrels per day and is a key supplier of crude to the United States and the European Union.
More than a dozen labour leaders entered talks with Jonathan and other officials on Thursday -- the first such meeting since the start of the strike.
The country's petroleum minister declined to say whether reversing the removal of subsidies was a possibility, but clearly signalled there was room for negotiation.
"I think, at all times, we have asked that the door for dialogue should remain open," Diezani Alison-Madueke told journalists after meeting Jonathan.
"No government would stand up and put itself through a sort of onslaught that we have been put through if they did not believe that what was to come is far better for the country than what has already passed," she added.
Government officials and economists say removing subsidies was essential and will allow the $8 billion per year in savings to be plowed into projects to improve the country's woefully inadequate infrastructure.
But protests across Africa's most populous country pressed ahead, with large crowds denouncing the government move to end subsidies, which Nigerians view as their only benefit from the country's oil wealth.
In Lagos, the largest city and the commercial capital, a crowd of over 10,000 packed a park which has become the main protest site in the economic capital.
Some watched from atop a bridge, as a truck of protesters drove by the crowd chanting "Ole! Ole!" (thief in the local Yoruba language).
Seun Kuti, the son of late legendary musician and harsh government critic Fela Kuti, performed for a raucous crowd that screamed its anger at the government and yelled threats to the president.
In northern Nigeria's largest city of Kano, several hundreds of thousands gathered at an expansive open air ground for what organisers labelled a "sit-in" rally.
Violence also continued in parts of the country, with two police officers killed on Wednesday when a mob rampaged in the central city of Minna, burning political offices and prompting an all-day curfew, while gunmen attacked a police station in the northeastern city of Yola.
The northeast was also affected, with four Christians gunned down on the outskirts of the city of Potiskum by suspected Boko Haram members.
UN human rights chief Navi Pillay warned on Thursday that members of Boko Haram could be guilty of crimes against humanity if their attacks have systematically targeted civilians.