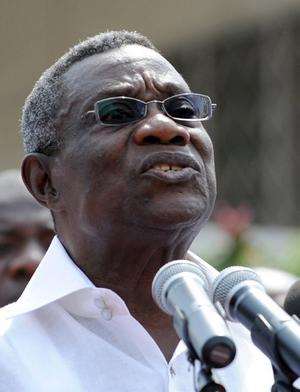 Accra, Jan. 9, GNA- President John Evans Atta Mills on Monday stated that his declaration of 2011 as an Action Year had yielded sufficient dividends, as more people were now enjoying potable water, good roads, schools and electricity.
He said apart from the increase in the provision of rural electricity from 54 per cent in 2009 to the current state of 72 per cent , the National Democratic Congress (NDC) administration had also eliminated hundreds of schools under trees throughout the country.
President Mills said these during his third annual encounter with Senior Journalists and Editors on the theme, "Still Building A Better Ghana ."
It focused on questions from journalists and answers from President Mills which attracted Senior Journalists from both the State owned and Private media organisations in the country.
President Mills answered questions on the Action Year promises, STX Housing Project, Mr Alfred Agbesi Woyome case, the missing cocaine saga, his relationship with former President Jerry John Rawlings and reasons why he was seeking re-election as President of Ghana.
He said work had begun on the Eastern corridor-roads and contractors were at site at Asikuma in the Eastern Region and Nkwanta and Kpassa in the Volta Region and called on those who said he was giving vain promises to move into rural communities to ascertain the veracity of his assertion.
On the University projects in the Volta and Brong-Ahafo Regions, President Mills said government did not want to jump the gun, as it had not received Parliamentary approval, adding that "in any case, government has already put up accommodation for Vice Chancellors and a Chinese contractor is already working at the Volta Region University site."
President Mills said government was seeking alternative measures to provide adequate accommodation for the public sector, in view of the fact that STX Housing Project had faced numerous challenges and truncated with board room wranglings.
He said increase in the prices of petroleum products was one of the most painful decisions his administration had to take, due to the negative financial repercussions it was having on Ghanaians, "But under the circumstances, it was expedient to take off the subsidies as it was impacting negatively on the economy."
President Mills promised that government would continue to work hard to ensure that conditions were streamlined in subsequent years in line with the Better Ghana Agenda of his administration.
He said the Woyome case was under investigations and his administration would take necessary action against those who would be found culpable in the final reports, irrespective of their status or where they were coming from.
"I have been a Commissioner of the Internal Revenue Service before and know how difficult it is to generate money, and will therefore not take steps that will dissipate government funds," President Mills emphasised.
He appealed to Ghanaians to unite and fight against poverty and deprivation, instead of engaging in unproductive arguments that could leave them more impoverished than before.
GNA