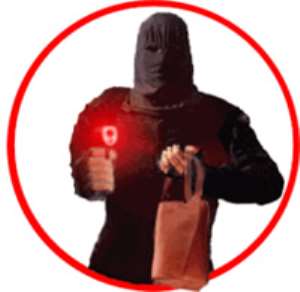 The spate of lethal armed robberies taking place on a stretch of road leading to Kumawu in the Ashanti region is terrific. In less than two years, passengers going to and from Kumawu have suffered
several armed robbery attacks and fatalities. The most recent one is about four days ago when an important member of the Pentecostal Church was fatally wounded when he became a victim of carjack by armed robbers. This gentleman was attending an ongoing Pentecostal Convention in Kumawu when he was set upon by armed robbers on reaching "Yaw Asoadwa Nkwanta" They robbed him of his money, car, and killed him. A farmer who reported his shocked discovery to the police discovered his body.
"Yaw Asoadwa Nkwanta", once a famous place for its sumptuous "Chop bar", on that stretch of road between Kumawu-Wonoo and Akotoso has now deteriorated into a death trap. It has since the last three years become a favourite spot for attacks on passengers by armed robbers. About two weeks ago, armed robbers blocked the road with a felled tree. They attacked and robbed all the passengers in the vehicles going from Kumawu to Kumasi. They were waiting in ambush near the road at "Yaw Asoadwa Nkanta" for all the very early morning vehicles. They robbed the passengers of all their money and valuables; initially fooling the drivers by pretending to clearing the road of the tree but actually were there to effect robbery on the unsuspecting passengers. As soon as the first vehicle that happened to be a tipper truck pulled up at the disguised barrier (fallen tree in the middle of the road), they pounced on him. All the subsequent vehicles coming immediately after the tipper truck were obliged to stop, attacked, and the passengers robbed. The armed robbers who were having a field day took to their heels, disappearing into the bush with their booty when the driver of a Kumawu-Accra bound commercial vehicle decided to run them over by driving at an excessive speed towards the setup barrier without stopping. The driver from experience had concluded that something sinister was going on upon sighting the stopped vehicles with the fake barrier ahead of him.
At the same place, highwaymen killed a police officer travelling in his private car about ten months ago. He challenged them when as usual they had placed a felled tree in the road with intention to rob passing-by vehicles and their passengers. Additionally, emboldened passengers gave some armed robbers a chase from the same area about two to three years ago. When the passengers chased them, an unlucky one among them was arrested and taken to Effiduase police station. Surprisingly, he happened to be a police officer from same station, it was alleged. A police officer turned into an armed robber by night?
In-between these four mentioned cases, several others have taken place at the same place. Until when will innocent passengers continue to become victims of armed robberies at "Yaw Asoadwa Nkwanta?" It is no longer safe for vehicles to ply that stretch of road between the hours of dusk and dawn.
What are the Kumawu people doing to bring these armed robberies at "Yaw Asoadwa Nkwanta" under control? I suggest the people of the neighbouring villages mount vigilante barriers at Akotoso and Wonoo to trap these shameless callous murderers. If I had my own way, I would suggest any captured armed robber is subjected to instant justice by his captors, the only viable way to reduce the numbers of these vermin called armed robbers. I am not entreating anyone to take the laws into their hands but armed robbers deserve worse treatment than they mete out to their victims. They must be lynched, someone may say.
John Fosu