Deputy Information Minister denies "Obama can go to hell" story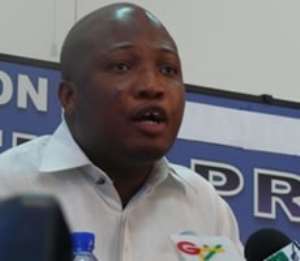 Okudzeto Ablakwa
Mr Samuel Okudzeto Ablakwa, a Deputy Minister of Information, has denied a story published in the Daily Searchlight newspaper that quoted him as saying "Obama can go to hell", over the US Administration's decision to tie gay rights to aid.
A rejoinder issued on Thursday in Accra, said: "I was called yesterday the 7th of December, 2011 at 11.13 am by one Deborah Esi Acquah, who introduced herself as a reporter from The Daily Searchlight and wanted Government's reaction to news from Washington DC that the Obama Administration will tie gay rights as conditionality to aid.
"My exact and only words in response to your reporter's enquiry was that "President Mills has already stated the position of the Ghanaian Government and so it will be useful for The Daily Searchlight to refer to the statement made by President Mills.
"I cannot fathom how this response could be interpreted by the wildest stretch of imagination to mean that I have asked President Obama to go to Hell. To falsely attribute these words to me and put same in quotation marks as a screaming banner headline is most mischievous, unethical and unfair.
"The agenda of The Daily Searchlight becomes even more apparent when you write in your opening paragraph that "Fresh from telling off UK Prime Minister David Cameron to take a hike, Deputy Minister of Information, Hon. Okudzeto Ablakwa is at it again. This time his target is US President Barack Obama.
"Again, factual records will show that I have never told Prime Minister Cameron to go take a hike neither have I "targeted" President Barack Obama as but for your reporter's call to me I would not have been speaking to The Daily Searchlight.
"I would have ignored this dangerous publication as I have done on many occasions but since it has become obvious that your paper has been consistent on this path, I have decided to correct the false impression this publication and the previous ones have created considering that it has the tendency to create needless tensions between Ghana and other nations.
"I have always been conscious of my diction and choice of expressions especially in the sensitive arena of international diplomacy and find this agenda by The Daily Searchlight as very distasteful to say the least.
"This rejoinder is without prejudice to our Government's stance on the issue of gay rights and aid. It is possible and has always been possible for us to maintain a principled position on such issues in a decorous manner without asking other heads of states to 'go to hell' or 'take a hike.'"