Intermittent Shortage Of Liquefied Petroleum Gas (LPG)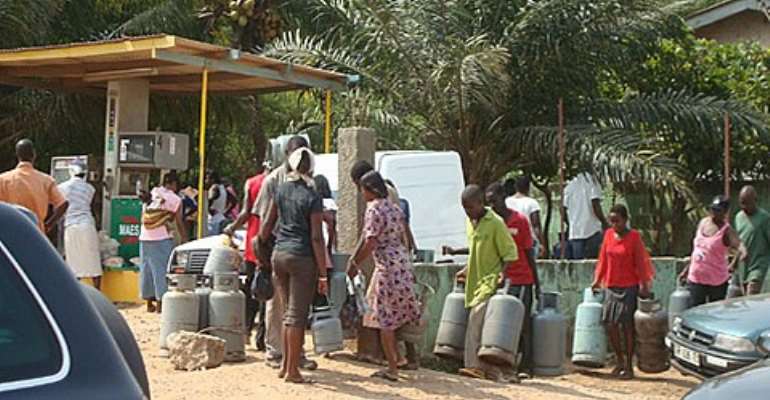 Shortage of Liquefied Petroleum Gas (LPG) has hit Sunyani Municipality, affecting commuters and commercial activities.
The shortage is creating congestion and confrontations at some taxi stations as commuters have to wait in queues for long periods.
A survey conducted by the Ghana News Agency (GNA) showed that more than 80 percent of taxi drivers in the municipality have converted their petrol cars into LPG.
When the GNA visited the premises of some filling stations on Wednesday, some gas tankers were seen offloading the commodity whilst a long queue of taxis waited to be served.
Some of the taxi drivers told the GNA they woke up at 4:30a.m each day to join queues in order to fill their vehicles with the LPG and that the shortage started on December 02.
Explaining the motive behind their decision to convert their vehicles from petrol to gas, Mr. Mohammed Adams, a taxi driver, said it was economical.
He said apart from the economic gains, gas consumption was relatively low as compared to petrol and a driver could work with 60 litres of gas sold at GH¢40 for two days before refilling. "With the 60 litres, a gas car can easily meet each day's daily sales of GH¢20 to GH¢25," he said.
Kofi Emmanuel, a taxi driver, said drivers use petrol cars found it difficult to meet their daily sales.